24 Apr

Why Google+ Isn't as Bad as You Thought

Google+ is a bit of a Marmite product, except the love-hate
balance seems to be permanently tipped in favour of the disenfranchised.

And it's easy to see why.

We don't like being force fed – U2 proved that when they shoehorned
their last album in to the library of 500 million iTunes subscribers
without any of them having a say in the matter. Google+ was rather thrust upon
Google service users without them having much of a choice:

"So you want to use to use Gmail and upload videos on YouTube?

"Great, go ahead it's
free…oh, by the way, you'll be getting a Google+ account too. Yeah, that's just
how we roll – 'One account. All of Google.'

"You in?"

This clever little trick, along with forcing people to have
a Google+
account to comment on YouTube, certainly didn't help endear the "social
layer" to users; but, as annoying as it has clearly been, that Google+ page that's
gathering dust isn't actually as useless as it looks, especially if you're
looking to partake in a bit of the old SEO.
Rubbish for banter, great for business
Google+ isn't Facebook or Twitter or Instagram, it's not
even WhatsApp. User numbers are impressive – 540 million a month at the last
count. How many of these are actively using the platform to socialise with
others in their 'circles' however, is most likely inflated due to the fact that everyone
with a Google account also has a Google+ page.
If you're looking to chat with your mates, or be actively engaged with the social following for your brand, you really don't want to be considering
G+ ahead of big blue or the chirping bird. The platform, though, does have one
major feather in its cap: Google.
Organic
search drives 51% of all visitors to B2B and B2C websites and social only 5%.
Google+ might be floundering as a credible member of the social media
community, but when it comes to increasing traffic it's a force to be reckoned
with.
Simply by existing, Google's social platform offers a number
of measures that can benefit the SEO efforts of any business.
Google+ Local
Google+ Local, formally known as Google Places, is designed
to do two things: help businesses get noticed and help people discover and
engage with businesses in the local vicinity. It's kind of like a Yellow
Pages-style directory, but with social benefits.
If you're a local business with a Google+ Local page, you'll
have a good chance of getting seen in search results when a user enters a query
related to the services you provide. Here's an example of a search for
"plumbers in London":
Notice that the search brought up a list of seven results
(known as the "7 Pack"), all with URL, physical address and phone number
details, as well as map location, customer reviews and, of course, a link to
the Google+ page of each business.
That is the power of Google+ Local. And it gets even better.
Hover over any of the results shown in the "7 Pack" and
Google will bring up a knowledge graph that includes further information about
a business, including photos of premises, a personalised map, opening hours and
selected reviews. As seen to the right of results with a search for "theatre in
London":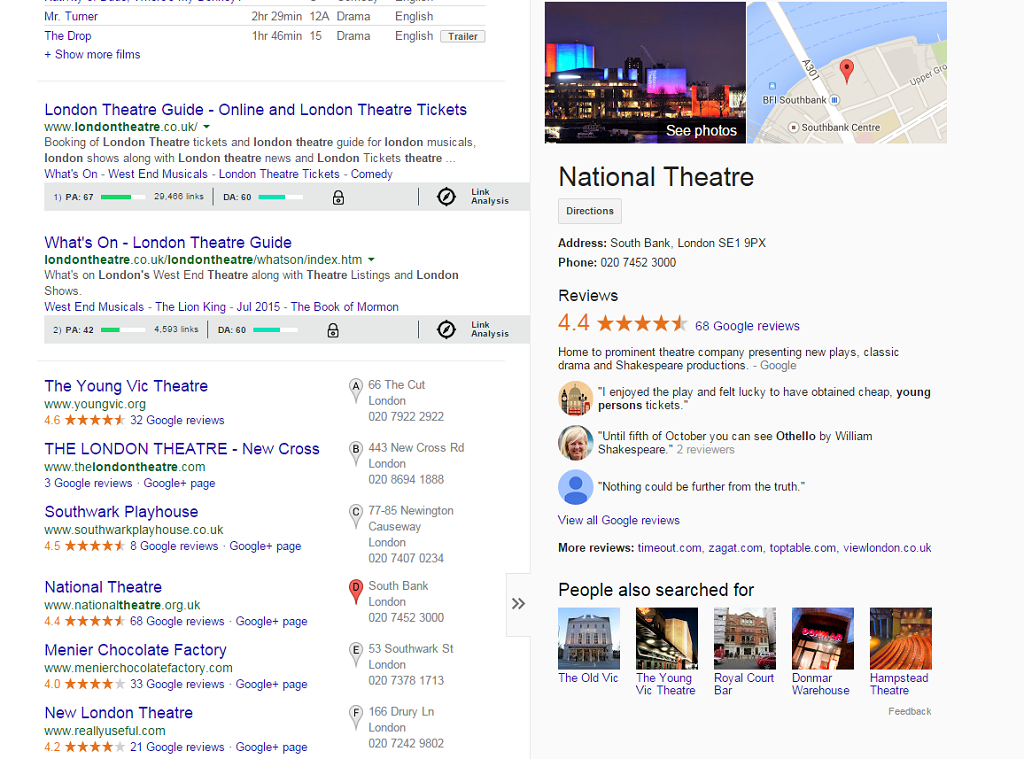 None of this is possible without that free Google+ page you
didn't really want.
Personalised search
Although I said earlier that Google+ doesn't stand up
against Facebook or Twitter as a social network, there are benefits to
increasing your following – one of them being personalised search.
The search results for users that are logged into Google are
different to those using the search engine without their account; they're more
tailored and catered to previous search habits, recognising preferences and
predicting an outcome. Yes, it's a bit creepy, but a lot of people search in
this way and your business can really reap the rewards – especially if you've
got a decent number of followers.
According to Search Engine Watch's Eric
Enge, awareness and reach are much improved for people that follow a
business on G+ or +1 content, because Google already knows what they like and
aims to please by displaying preferences whenever possible. Basically, if you
can get someone to hit that follow button, you've got more chance of being seen
in their search results.
Google+ Hangouts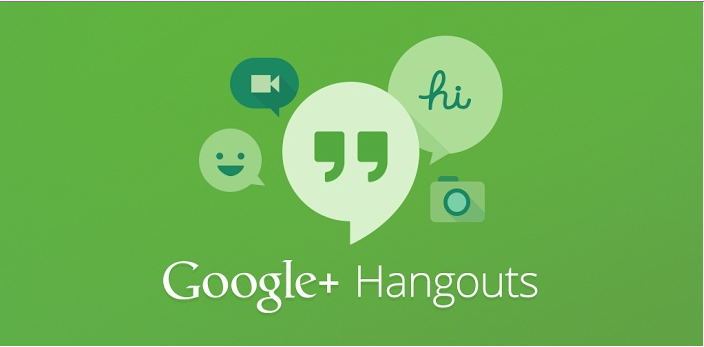 Everyone loves videos and YouTube has almost single-handedly
made them critical to SEO. Videos are around 50-times
more likely to get organic page ranks than plain text and 62% of universal
searches on Google now include them.
Hangouts is bit like Skype and a bit like YouTube, but
nowhere near as popular as either. Oh, and videos that are streamed and
recorded between you are your buddies won't show up in Google search results.
I'm not really selling this well here am I?
Hangouts is actually a decent tool that lets you get some
good content on your G+ page and gives you a way to connect with your
community. And, seeing as though your Google account has you tied into YouTube,
you can upload your decent hangouts there to get them found in results pages.
Ranking and Indexing
Unsurprisingly (or maybe surprisingly to some?), Google
likes its own social media site better than Facebook and Twitter. You won't see
individual posts indexed or ranked on either of those sites, but you will see a
new G+ post popping up in results, pretty quickly. Publishing content on your
page to get indexed is simple too, so you shouldn't have any trouble publishing
fresh stuff on their regularly.
Google+ Insights
If you're thinking about getting serious with your G+ page –
and by now you might be – Google has created Google+ Platform
Insights. If you've ever used Google Analytics, then you'll have a pretty
good idea about what to expect from this tool. If not, it's basically just a
whole lot of graphs and stats related to Visibility, Engagement and Audience,
that can be used to optimise your page and ramp up the SEO benefits.
So there you have it…a list of things that actually make
Google+ worthwhile. Okay, so it's not as trendy as Facebook or as simple as
Twitter, and it is the bastard-child of your Google account; but all G+ wants
is to be loved, and surely the SEO benefits stir up enough compassion in your
business mentality to afford it that?