23 Jul

We Hate Automated Direct Messaging on Twitter. You Should Too

At Pea Soup we love ourselves some Twitter. Every brand
should. Okay, so it doesn't drive the same levels of traffic as Facebook or have as many monthly active users as LinkedIn, but for conversation and real-time value
there is nothing better.

Hashtags, the simplicity of handles and an excellent search
engine make Twitter an excellent place to connect and interact with like-minded
individuals/brands. On no other social network can you contact an
influencer, celebrity or VIP as easily and have their response turn into a
full-blown conversation. And on no other social network can build a loyal
following as quickly using nothing more than a few choice keywords. Tweets are
also now being shown in Google's search results, making the site more important
than ever as a promotional tool, giving your brand greater exposure. Yeah,
Twitter is brilliant and we wouldn't have it any other way…almost.

You see, as much as we love being part of the conversation, there
is one element of Twitter that we're not so keen on… direct messages.
Good in theory
Direct messages, or DMs as they are more commonly known in
this abbreviation-happy world, let you contact anyone (whether you follow them
or not) by dropping them a line in their Twitter inbox. Now this is certainly a
useful feature to have – some correspondences aren't meant to be seen by the
wider Twitter universe. The company has also recently announced that the
character limit for DMs will be 10,000 characters, which is another potentially
useful feature – 140 characters can be restrictive, especially where customer service is concerned.
So if messages are 'useful' why aren't we keen on them? It's
not the feature we itself that we don't like; it's the way that people abuse
it.
Twitter is a great place to share updates about your
business, including promoting products. Typically, however, you'll do this
without targeting an individual user, unless they are likely to have a vested
interest – you've mentioned them in a blog post, for example.
The problem with DMs, in our experience, is that they are automated to promote products, services or content and
scheduled to be sent the very second you hit that Follow button.
In theory, the fact you reaching out to follow another account
means that you're interested in what they have offer (unless you're simply
returning a follow out of goodwill, or are using an auto-follow tool, which we'd
never recommend) and might well be interested in hearing about a specific
offering via a DM. In reality this is never the case. And it's because people
have become desensitised to direct messages.
Horrible in Practice
People no longer care what's in a DM from a new follower, because
they automatically assume that you're trying to sell them something.
Here are some examples of common automated DMs: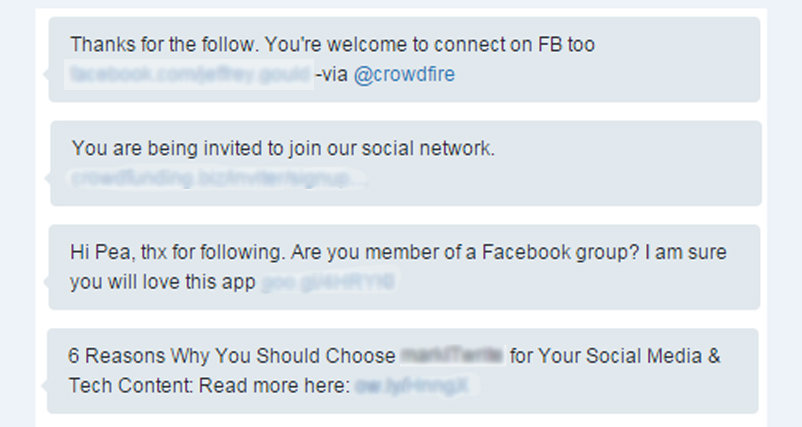 Here's what's off-putting about these messages from the get
go: links. You see a link, you think of spam – especially when you barely even
know anything about the brand/person sending it.
Secondly, the "Hi Pea" intro. Yes they've greeted us by
name (certainly better than no greeting at all) but it's automated, and it includes a link.
Even messages that have no ulterior motive; other than to
say "thanks for the follow" – those get ignored too; partly because they're
seen as automated messages that serve no purpose, but mostly because we've
trained ourselves to look right past 99% of messages.
Twitter, while allowing the use of automated direct messaging, is also against links. From its Automation rules and best practices:
"In efforts to prevent spam and protect our users from potentially malicious activity, we discourage sending links in the body of an automated Direct Message, and the action may be denied."
So what's our advice for direct messaging?
Avoid them.
Avoid them, unless you have a personal relationship with the
recipient. And even then you should only message that person if they can't be
reached by email, which is rare.
If you've never had previous interaction with a user, don't DM them.
Using DMs as a marketing tool may actually do more harm than
good. In a thread created on Warrior Forum most people were almost everyone against DMing. Articles here and particularly here back up my (our) opinion too.
There is little benefit in the way of traffic and you might
even lose followers, who tend to react badly to suspected spam.
Building a follower base on Twitter that is actively
interested and willing to engage with your business is all about nurturing.
Rather than dropping a thoughtless link in someone's inbox, take the time to
share and reply to their tweets – make it a two way conversation. No DMs,
just @ handle tweets in response to shared posts.
Once you've built up a personal relationship with a follower,
feel free to DM away – neither side will be offended at this point. Until then
though, stay the hell away from the envelope – it's bad for business.