29 Jul

The Knowledge Vault and Why Google Wants You to Start Answering Questions

Depending on your age, you may well remember a time in the
not too distant past when the answer to a particular question that was
bothering your brain would be sought from another person more knowledgeable in the
subject of your curiosity than you were.

Those days are gone, at least in the human interaction sense.
Google killed the oracle and rules in his place.

Nowadays when you have a question, your first thought is not
of any mere human, but of a search engine – one that is rarely ever more than a
metre from your side. Google has all the answers you'll ever need and it's becoming
more knowledgeable by the day.

Google, by design, is an answer machine. It is built to
help you solve any query that you ask. Traditionally, this has required the
slightest bit of effort from your end, sifting through the masses of links to
pick out the information you need. However, as the search engine matures and
evolves, the net cast has become smaller and smaller; answers have become
increasingly targeted to the point where you no longer has to leave search
results to satisfy your thirst for knowledge.
The Knowledge Vault
A little while back I wrote a blog post about Google's
semantic search and how it is helping to predict the context of searches and
provide quality information. Central to this approach is the 'Knowledge Vault', a
database of more than 1.6 billion facts that is increasing by the second.
The Knowledge Vault is something you're probably used to by
now, it's that little box that pops up when you ask Google a direct question: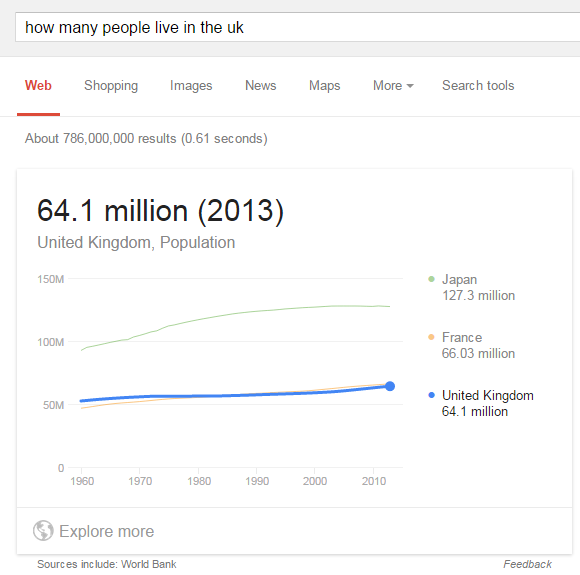 Using the World Bank as a source, Google has the answer I
was looking for right there in the search results. No need for me to go
elsewhere to find it, which is exactly what the search engine wants.
Sometimes the answer box will pull text from a reputable
website: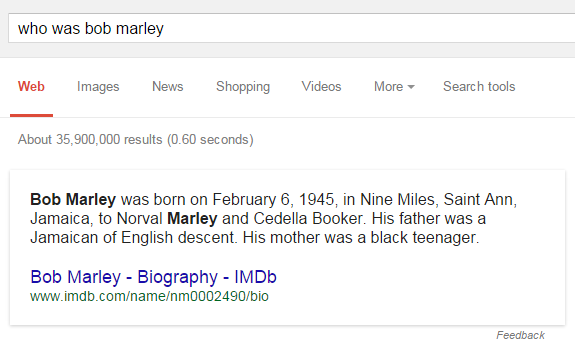 While the broad answer to the question is right there, there
is at least a link to the site so that I can find out more information.
Google, though, isn't content with working on a straight
ask-a-question-get-an-answer basis. Humans are inquisitive animals, one
question invariably leads to another – we've always got a thirst for more. Which brings us to 'People Also Ask'.
What else do you need to know

?

As is typically the Google way, People Also Ask was rolled
out quietly back in April, displaying additional queries (in question form)
that are related (sometimes loosely) to the initial question. Initially, the
feature only displayed non-commercial terms, but – as noted by The SEM Post's
Jennifer Slegg – this quickly evolved to show highly competitive and commercial
terms such as "payday loans".




Here are some examples from our own testing (forgive the
randomness of the queries; the feature seems to favour the obscure):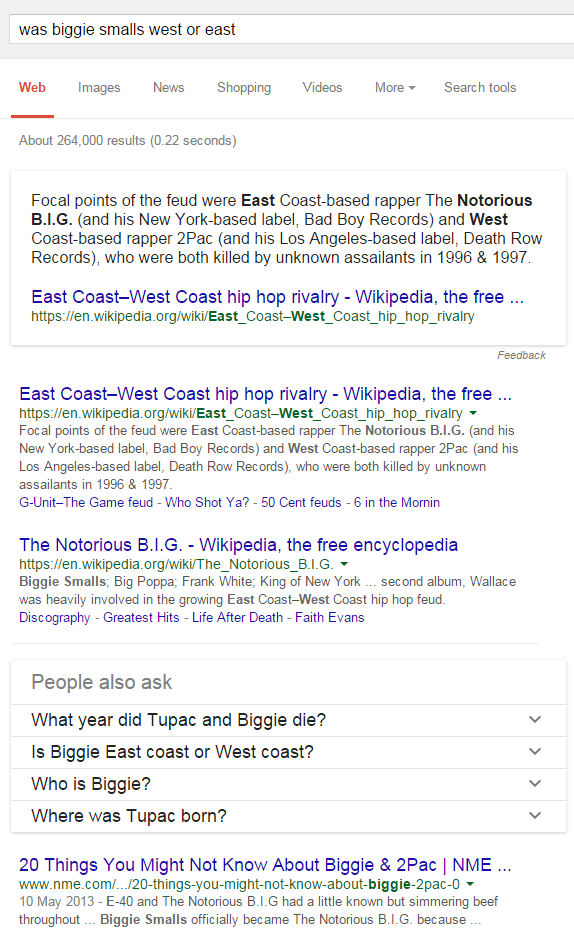 Google here provides an answer to the initial question, as
well the People Also Ask queries, including, strangely, the question just
asked.  Each one of these questions can
be expanded and, once again, include a link to the webpage where the text was
pulled from: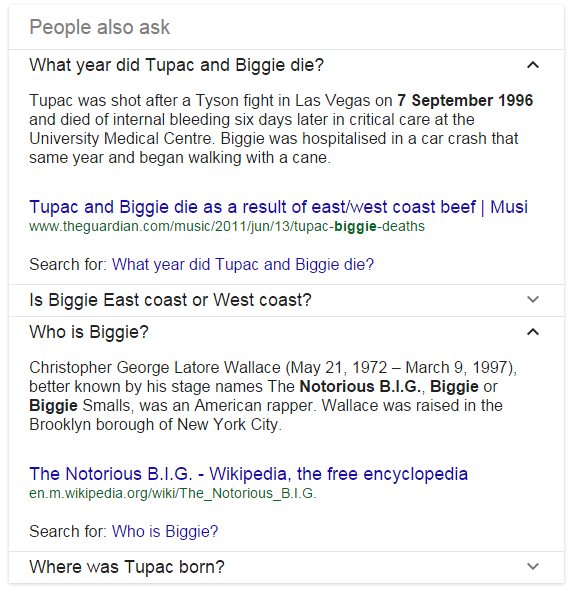 Also included in the results are clickable links, allowing
you to search for that question and browse answers in a new page.
At this point I should tell you that I, of course, knew good and well where Biggie was from so no need to question my hip-hop knowledge.
Next, a search for 'water usage statistics':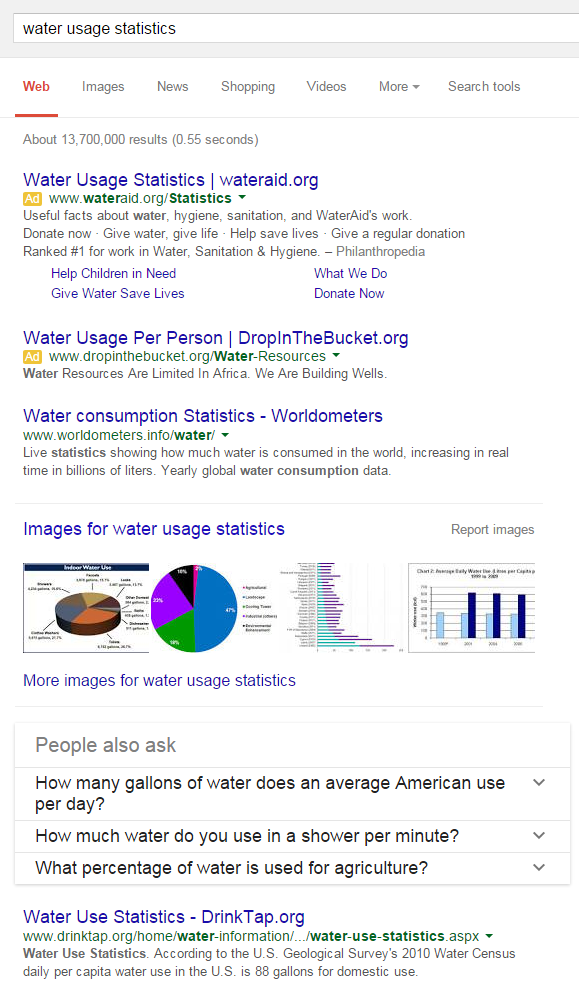 No Knowledge Vault answer box this time, but some pretty useful People Also Ask questions that may well help
me further my research.
Finally, the age old question of Kenny and Dolly – did they
or didn't they? Sparked by me hearing Islands in the Stream on the radio: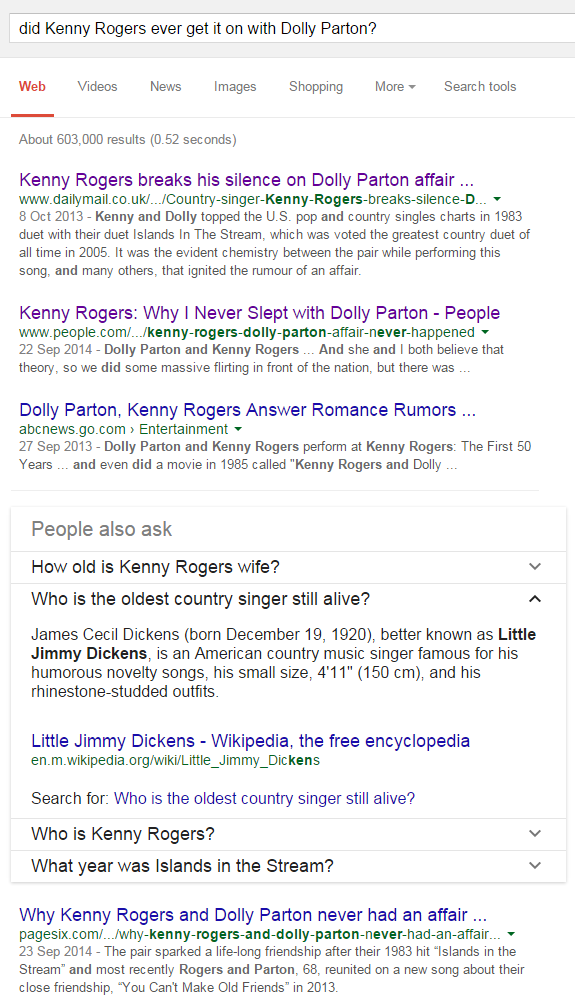 Again, there is no Knowledge Vault answer, but some appropriate
links and Kenny Rogers-related questions. Interestingly, if I phrase the question differently, I get different related suggestions.
By changing the question from "did Kenny Rogers ever get it
on with Dolly Parton?" to "did Kenny Rogers ever have an affair with Dolly
Parton?" People Also Ask displayed
more Dolly-centric questions.

Before you leave this post to go and Google it yourself,
they never did get it on. And we shouldn't ever have doubted them.
After dozens more questions on subjects as obscure as
Kriss Akabusi and vegetables to put in a homemade cottage pie, People Also Ask
returned when I entered this Arnie-related query: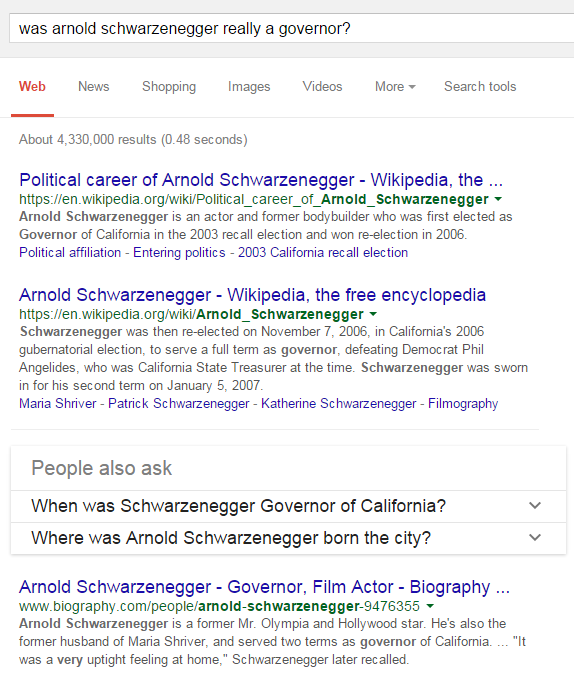 Like the Biggie question, I already knew the answer to this;
I simply asked to confirm that it wasn't all a bad dream.
So there it is. The People
Also Ask box – appearing on mostly niche-based queries, but probably
finding its way into an increasing number of results as Google's database
grows.
Getting Your Answers Seen
Google's Knowledge Vault is great for search users as it
provides them with the answers they seek without any of
the leg work. For website owners, though, the feature takes away UI elements
and traffic. But that's Google for you. As an SEO or content marketer, if Big G does something you've just got to roll with it.
With Google now determined to keep people on its search
engine results pages and away from your website, you need to get in the
business of answering questions. You need to be the one whose text the search engine uses
when displaying an answer to a query and the site that gets the all-important
link in the answer box.
How do you do this?
By being a high-quality source of information in your niche.
Google seems to favour the obscure, which bodes well if you specialise in a
particular subject. You need set out to find the questions people are asking and
answer them.
Typically, the way to do this would be to visit community
websites and forums such as Reddit and trawling through threads to find out
what people are talking about, or by using the (still useful) trick of entering site: [URL] intitle: [keyword] into Google. However, there are a couple of excellent resources that can do all of
the messy work for you, leaving you to reap the benefits: FAQfox and Answer The Public.
FAQfox allows you to find out what questions are being asked
about your keywords on community websites, in the language that people use. Simply
enter your keywords into the search box, select which sites to scrape and pick
out the best queries to answer.
For example, I might want to find out what people are asking
regarding content marketing on sites related to Pea Soup's niche such as
Warrior Forum, Digital Point, Reddit and Quora. So I enter 'content
marketing' as the key term, type site URLs into the box below and hit
search. FAQfox then provides a huge list of results.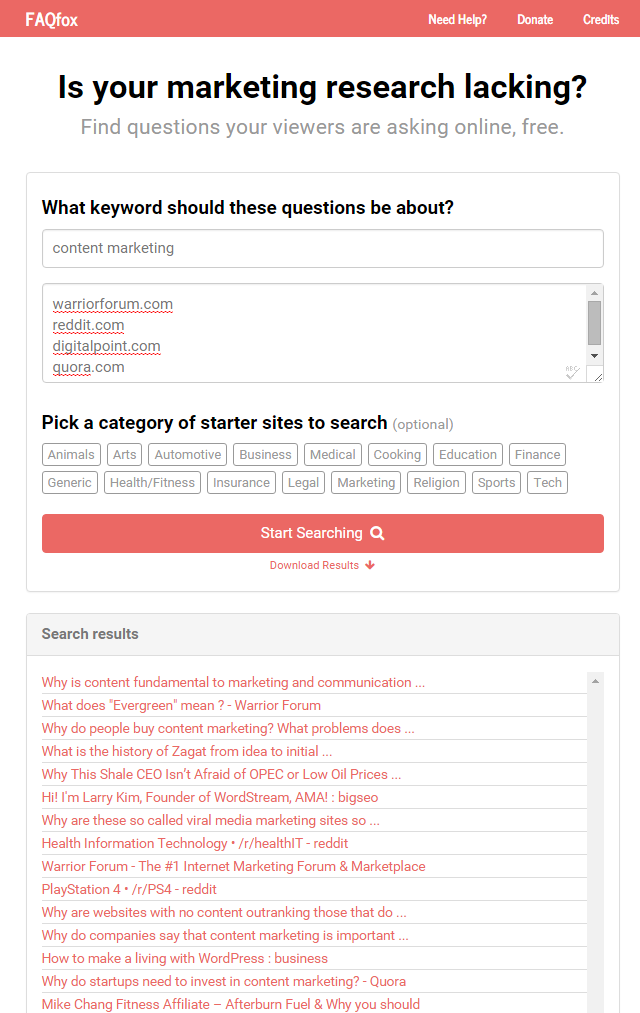 Answer The Public is even more straightforward: enter your
keywords, choose your Google or YouTube region and enjoy a simple visualisation
of related questions covering who, what, which, why, how and are.
By answering questions that people are asking, not only will
you be providing valuable content to visitors, you'll be positioning yourself
as text of choice within the Knowledge Vault and, perhaps most importantly of
all, fitting in nicely with Google's ethos of delivering the best possible
search experience. And we all know how much Big G likes it when you do that.