06 Aug

Social Media And Why You Shouldn't Try to Be Everywhere At Once

For a business in 2015, social media is not really a choice, it's a responsibility.

Social media is where your audience hangs out; where they find out the latest news from their favourite brands and where they engage with them – for better or worse. People expect you to be on social media. If you're not, then in the mind of the user you're one of two things: not a proper business worth its chops, or a dinosaur that still posts ads in the window of the corner shop.

In a poll of its customers, HubSpot revealed that consumers
expect brands to have an active presence
on at least three social channels.  This
is something you should adhere to, and for good reason:  74% of consumers rely on social media to
influence their purchasing decisions and 81% are influenced by their friends'
posts when making purchasing decisions.

While it can feel like a bit of a chore at times, brands and
businesses pandering to the social universe do enjoy some tangible benefits, as
Social
Media Examiner's Industry Report shows: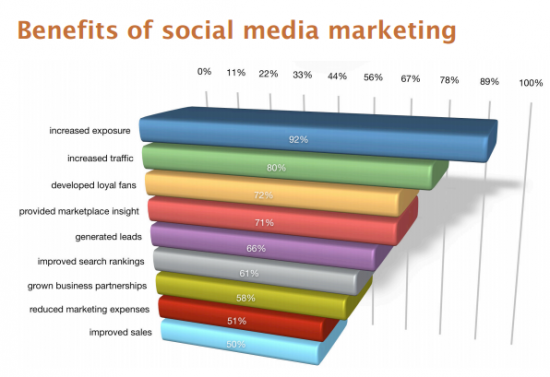 Putting your brand on social media is a win-win… the people
get what they expect and you get to reap some pretty significant rewards –
rewards that you certainly won't get sandwiched between the Agony Aunt and the
sport in the local Gazette.
So you know you need to be on social media (preferably on at least three channels), the next step is to establish where. This involves avoiding one of
the most common mistakes…
Spreading yourself too thinly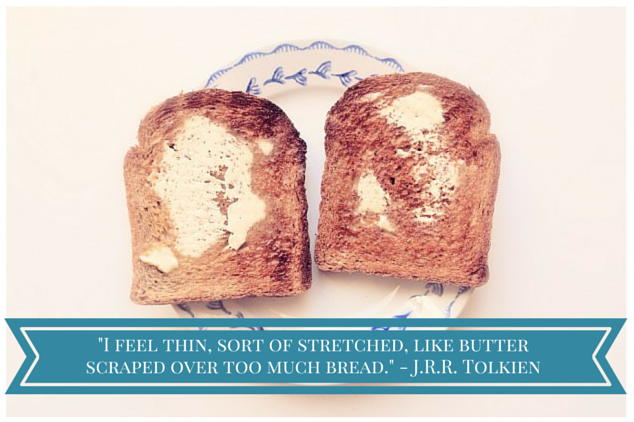 Imagine you had a large slice of freshly toasted bread, made specifically to create a solid base for highly-anticipated addition of Nutella (other spreads are available).
Now, you're getting all excited ready to
lather the nutty chocolate on your toast, when you run into a problem… there's
less spread than you thought; some little chancer has been dipping into the jar and has left you scraping the sides for
enough spread to cover your toast, which at this stage is going cold.
So you manage to get a dollop on your toast, but it quickly becomes apparent that
it's not going to be enough for full coverage. Now you've got a choice to make:
leave that dollop in the middle and eat through dry toast for the big Nutella pay-off at the end; or start spreading and risk a coverage so thin that you barely get to taste any of the chocolatey
goodness.
You opt for the latter and guess what? You've just spread
too thinly.
Your business is Nutella and social media is the
bread.
Don't spread yourself too thinly. There are dozens upon
dozens of social media sites – if you try to be active on them all you're
probably going to fail.
What you need to do is find out where your audience resides and
go there.
Being where your audience is
The social channels that will work best for you are those
that fit best with your brand. If you're a photographer, Instagram and
Tumblr are good options; if you work in design, Pinterest will help you showcase
your work or products.
Of the three social sites that consumers expect you to be on, that quota is immediately filled with Facebook Twitter and
LinkedIn.
Without knowing anything at all about your business, I can
pretty much guarantee that your audience is on Facebook, quite simply because
everyone is on Facebook!
1.49 billion people use FB every month – your friends and
family are there, your favourite brands are there, you're probably there
yourself.  95% of Millennials expect you
to be there too, as do 87% of Generation X'ers (30-44-year-olds) and 70% of 45+'ers.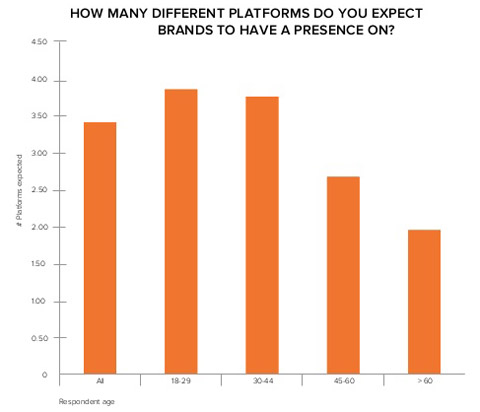 Image Credit: HubSpot
89% of B2B businesses used Facebook in 2014, which tells you
everything you need to know. Target audience demographics go out of the window
when it comes to this social network; you've just got to be on there.
Ideally, you should look to post on Facebook around twice a
day.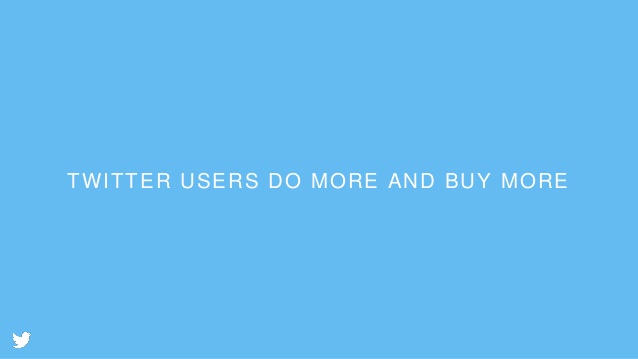 Like Facebook, it's a pretty safe bet that your audience is
on Twitter, too. Also, like FB, 89% of businesses strut their stuff on Twitter
and it's a great place to be for real-time engagement and customer interaction.
With "only" 316 million monthly active users, demographics may
be a little more important – the majority of users (37%) are aged 18-29 graduates
living in urban and suburban areas – but the opportunities for your business to
build a community, establish authority and spy on competitors are arguably
better than Facebook.
Anywhere between two and ten tweets every weekday is suffice
on Twitter; however, if you're sticking to the lower end of the scale, it's
important that you're consistent with it – posting every day without fail.
No businessperson worth their salt can afford to go around
promoting themselves or their business without a LinkedIn profile to show off.
LinkedIn is a professional social network – most users are
between the ages of 30 and 65 with good jobs, earning good money. And when it
comes to traffic, the site sends
nearly four-times more people to your homepage that Facebook Twitter.
On this platform, you are your brand.
While it's essential that you do have a LinkedIn company
page, people interested in your business will look to connect with you. With 187
million monthly active users, this is a great place to attract clients and
generate new leads. Sell your brand by selling yourself, as a qualified,
experienced professional.

The fact LinkedIn is place for professionals means that the
tone of voice used should be more formal – industry buzzwords are welcome. According
to the company itself, posting 20-times a month can help you reach 60% of your
audience, so around one post a day, every week day.
Here's a couple of good stats for you to consider when setting up
on LinkedIn:
Where else should you be

?

So every business should be on Facebook, Twitter and
LinkedIn, but where else?

This really depends on your business.

A mention should go to Google+ which, while it seems to be
on a slippery slope as far as being a social network goes, still has over 500
million monthly active users. A business page on G+ enhances the appearance of
your company in search results and every post you publish gives you a follow link (a
backlink and some link juice), improving SEO. Consider posting on Google+ every time you post to Facebook.

If you were to adopt G+ alongside the big three we've
already mentioned, you're going to start spreading a little on the thin side.
Fortunately, thanks to tools such as Buffer and Hootsuite, managing accounts
across multiple channels becomes much simpler, with post scheduling and brand
monitoring easier to track.

I digress. Let's take a look at some of the other mainstream
social channels.

Instagram is huge and continues to grow at a significant
rate. It has 300 million monthly active users, sharing 70 million photos and
giving out 2.5 billion likes a day. This is certainly a great channel for
brands, but it is for you?

Engagement and interaction here is better than Twitter, most
likely due to the ease of which images are consumed compared to text, but reach
will very much depend on the industry in which you operate. Hashtags are
extremely important with as many as 10 perfectly acceptable. Buffer
recommends posting on Instagram 1.5-times a day or more on average, but this
will only be of benefit if there is a strong visual appeal to your brand. If
you work in a creative field or sell products, definitely get on board with
this platform. However, if your business specialises in a more conservative niche
like law, insurance or pensions, consider whether it will be worth your time.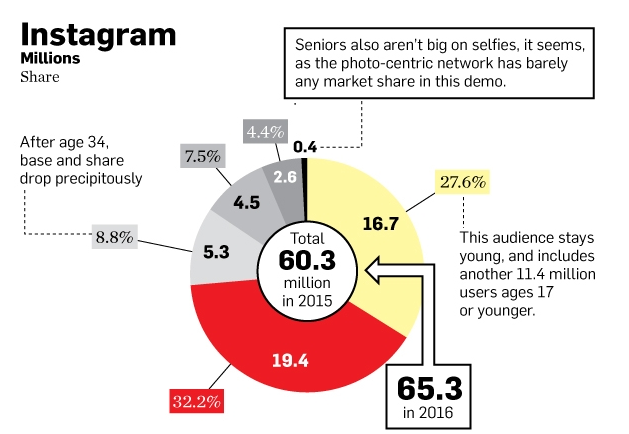 Image credit: AdWeek
Instagram is a young folks hang out; its core audience is 18-29,
with base and share dropping off significantly after the age of 34, presumably
when you're no longer cool enough to stick around. If the young crowd is your
target audience, this channel is well worth exploring.
Pinterest is a kind of a niche social network, but not in
any kind of small-time way. In fact, it's rather big: around 73 million users, 47%
of whom visit weekly. The pin-board format, however, is most definitely niche
in terms of who it's suitable for. Like Instagram, if your business isn't quite
image-reliant, I wouldn't suggest pursuing Pinterest. This site always has a
well-defined core audience that may or may not alienate your brand: 85% of
users are female, with most of those between the ages of 18 and 29.
The pinned and browsed categories on the site are featured in the following graphic from Postris (formerly Repinly):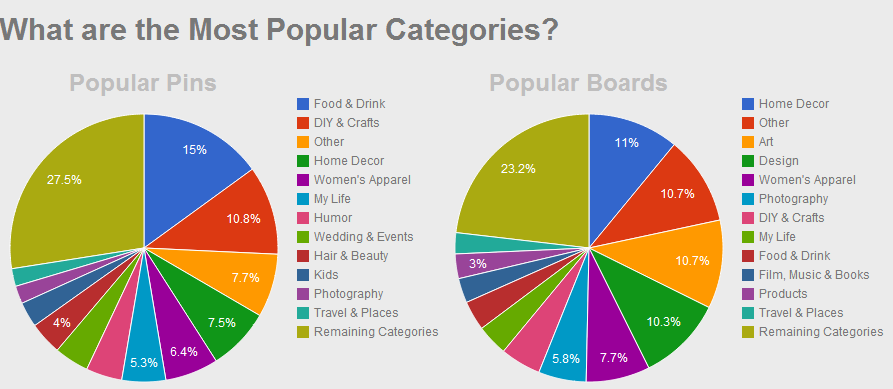 So if your business involves offering decorating and DIY
services to people on holiday and eating their food whilst they're away,
Pinterest is the perfect social network.
If you're in the business of selling electronics, these
stats might make pinning relevant to your brand:
Women on Pinterest are 33% more likely to have bought consumer
electronics in the past six months [Source]
Women on Pinterest are 25% more likely to have bought a
computer in the past six months [Source]
Brands with the most rapid growth on Pinterest post at least
five-times a day – is this something you're going to be able to do?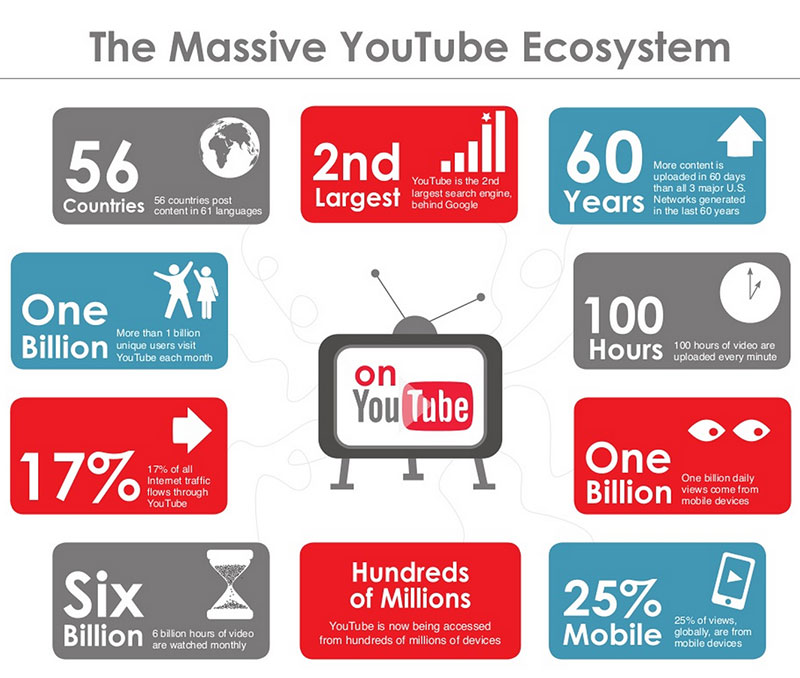 Like Facebook, there's a good chance that your audience can
be found exploring YouTube. Whether or not any of the site's one billion monthly visitors are
looking for content that relates to your business, however, is a different
question. The decision of whether or not you should be on YouTube is simply a matter of: do you offer video content? If you're confident
at talking on camera and have plenty to say, uploading videos to YouTube is definitely
something to consider, especially given how easy it is to share videos across
other social media channels and embed them on websites.
In terms of most viewed content, video games, music, fashion,
beauty and general stupid funny stuff attract the most views, although that's
really just touching the surface.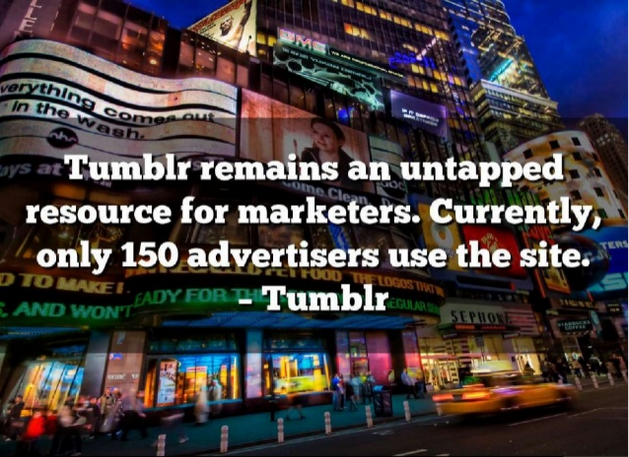 Tumblr is a social networking site for blogs. It has 230-million
active users that share millions of photos, stories, GIFs and other short-form
content. This site attracts a visual-friendly younger crowd, with a user-base that grew 120% in
the last six months of 2014. Interestingly, there are fewer than 200
advertisers on Tumblr, making it an untapped market; however, finding unique
content to post here regularly, alongside the various other social media
accounts you operate could prove tricky.
SlideShare is a good social media channel to consider, as it's
not somewhere you need to be posting every day and there are only really
benefits to be had. SlideShare is owned
by LinkedIn and attracts a similar type of professional crowd. It gets around
60-million unique visitors a month, 20% of whom come directly from Google.
While I'm dishing out statistics, here is perhaps the most telling one: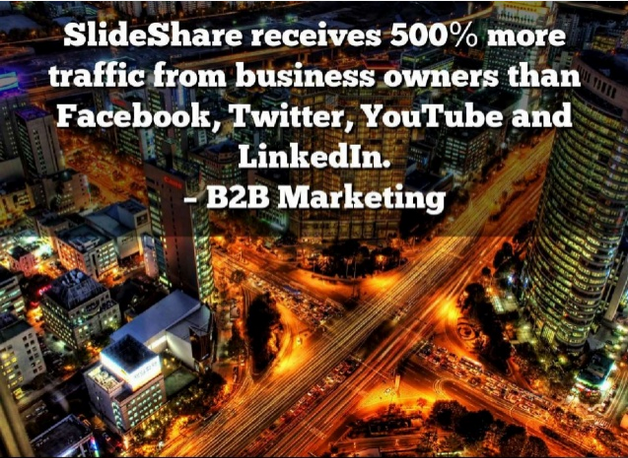 Like all stats, you'll have to take that at face value, but
it certainly makes slides more appealing. And slides don't necessarily have to
be unique, a lot of marketers simply repurpose old blog content and enjoy the
benefits that visual content brings to the table.
There are, of course, many more social media sites than this
– Vine and SnapChat didn't even get a mention. However, I've listed eight
different channels, all with marketing potential. The question is: how
many of these do you believe you can manage successfully without spreading yourself
too thin? And remember, these are solely for business (LinkedIn being the
exception). You'll also have your own social accounts to maintain, which are
often just as useful for putting people onto your brand.
You can't be everywhere at once. It's simply not viable.
Stretch your resources too far and you'll end up neglecting certain channels,
thus alienating followers who will begin to see you as lazy and/or
unprofessional.

When your brand is huge enough to have a team with enough
spare time to run customer service on MySpace, that's when you no longer have
to worry about spreading too thinly. Until then stick to a handful of social
channels that you're going to be comfortable managing and forget about the
rest.