13 Mar

Negative SEO: Whatcha gonna do when it comes for you?

Black Hat SEO is bad, very bad– we've spoken about just how
unscrupulous it is in the past, here.
If you're going to get involved in the dark arts on your own website as a way
to artificially boost your search engine rankings, be prepared to face the
consequences. Google takes Black Hat tactics very seriously and comes down hard on
those found to be manipulating algorithms in the only way it knows how – with a
penalty and an instant trip to the rarely ventured depths of search results.

Google's intelligence these days has evolved to a point
where only the really stupid will dabble in unethical practices on their own
site and expect to get away with it. But what if you aren't practising Black Hat your own
site? What if you're doing it, but making it look like someone else is doing
it? That's called negative SEO, and it's bad, very bad.
Negative SEO…how does that even work

?

You're not thinking about doing it are you?

Good 'cause we
ain't teaching none of that here.

Negative SEO has been around since 2007, so it seems strange
that, after all of the work Google has put into eliminating Web spam (for the
most part successfully) this term is still around and thriving.

This type of Black Hat SEO, as you've probably already
worked out, is the use of shady methods on another website – typically that of
a competitor. Such frowned upon methods include:

·
Buying links and pointing them to a website to
affect search rankings

·
Website hacking

·
Copying content and distributing it across the Web

·
Review bombing – making it look like a
competitor is paying for fake reviews

·
Fake social media profiles

·
Comment spamming

Now, I'd never go as far as to praise negative SEO, but
you've got to admire it – albeit begrudgingly. It's actually brilliant, but
not in any pat on the back kind of way.

Think about it…Google hates spam and does everything it can
to prevent it. Unfortunately, it isn't yet clever enough to figure out the
difference between spammer and victim. It sees Black Hat on your website and
automatically assumes you've been up to no good. Meanwhile, the perpetrator is
giggling away like Sideshow Bob  in the corner.
Am I at Risk

?

Yes. It's pointless sugar-coating it, this is serious stuff.

If you run a website, you're at risk of negative SEO. If you're a start-up with
little in the way of competition, the chances of being attacked are lower than
if you were, say, a market leader; but there's always a threat.

The biggest problem with this trend, besides the fact it is
incredibly effective, is the number of people that are willing to take down a
website for a small fee – take a look around Fiverr, Freelancer or oDesk and
you'll see what I mean.

Google used to claim on its Webmasters page there was
"nothing a competitor can do you harm your ranking or have your site removed
from our index" but that wording disappeared when it realised there was a lot a
competitor could do to have your penalised.
Right, I'm panicking now – what am I doing to do if I'm negative SEO'd

?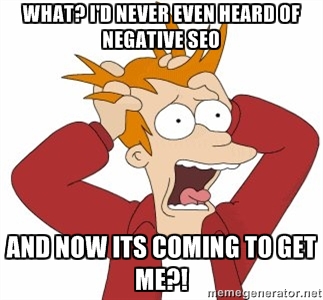 Okay, calm down. I didn't flat out say it was going to
happen to you…but it could, and because of this you need to be on guard.
You'll probably read, or have read, a few articles that
suggest ways of "preventing" negative SEO. The truth is you can't really
prevent it – if someone really wants to attack your website, they're going to
do it.
You can work like a trooper to build up your site to
behemoth-status – so that any attempt to discredit you is nothing more than an
itch on the leg – by being better in every way: better website, better content,
better product, better everything.
Beyond that, though, the only thing you can really do is
realise you're being attacked and defend against it. And here's how I want you
to do it.
Set up email alerts in Google Webmaster Tools
When the negative SEO comes knocking, you need to know about
it ASAP. GWT can act like a look out and be set up to alert you when pages are
not being indexed, malware attacks are present, connectivity problems are
detected and manual penalties have been issued.
Email alerts can be set up in the Webmaster Tools
Preferences section of GWT.
Check your rep
You've got to be on top of your game in these situations.
Someone is messing with your rep – don't let it happen.
Keep a close eye on your social media mentions and report
any fake profiles as spam. You should also check for duplicate content going
viral across the web – in a bad way. You can do this easily with Copyscape.
While you're on a roll checking for things, you might as
well go ahead and check site speed too. If your webpages are suspiciously
slow, it could be because someone is sending out thousands of server requests.
Enter your URL into Pingdom to monitor
page load speed and server uptime.
Monitor backlinks and do something about the bad ones
If a spammer is going to succeed in their negative SEO
efforts, there's a good chance backlinks have something to do with it. Low
quality links and redirects need to be discovered and eliminated before they
swarm your site like cockroaches and have you condemned.
You've got to monitor your backlinks closely using tools such as Open Site Explorer or Ahrefs; a backlink audit is also worthwhile (we can help you with this).
If suspicious links are detected you need to react quickly,
or face the dreaded Google Penalty. Spam links can be removed by requesting a
removal via GWT, or, if you haven't reacted quickly enough, create a text file of links that you want Google to
ignore and upload them to the Disavow Links
page.
The Disavow Tool can be used if you've received a manual
penalty from Google, or even if you haven't. While you obviously don't want
things to get to a point where you've been punished, the tool could be vital in
helping you rescue your credibility if you have. Links submitted to the Disavow
Tool are labelled with a tag so that Google's algorithm doesn't credit them in
a positive or negative way.
Here's Google's head of Web spam, Matt Cutts talking about
the tool:
And here he is again talking about when to use it:
Negative SEO is as about as welcome as a visit from the
mother-in-law when you haven't done the housework. You don't deserve that kind
of trouble turning up at your doorstep. If these tips haven't eased your fears, or you're in the midst of a crisis, don't hesitate to get in touch. Pea
Soup always has your back.