16 Jul

How and where to get free images for your content

When it comes to content marketing, visuals are where it's
at. We talked about why being seen is the best way to be heard in more depth in
this blog post, backing up our argument with a few choice stats, including how visuals get 94% more total views and are 40-times more likely to
be shared. Images are, of course, a huge part of this visual boom, evidenced by the popularity of sites like Pinterest and Tumblr, and engagement
across social media: tweets with images can generate 150% more retweets, 89%
more favourites and 18% more clicks than those without, and a study of 30,000
Facebook brand pages found that posts with images accounted for 87% of total
interactions.

So the point is clear: you need to be using images wherever
possible. What's not so clear is how to source these images without falling
foul of copyright laws. While finding an image is a simple as entering a few
keywords into a search engine, being able to save a pic and use it legally for
your own marketing purposes is rather trickier. Fortunately, there are hacks,
tools and resources out there that allow access to a whole treasure trove of
high-quality images and vector graphics that can be used however you desire.
Let's dig in:

The most obvious place to start. While a standard Google
Image search will return hundreds, if not thousands of results, 95% of these
will be subject to copyright. However, by using the search engines built-in
filters, you can narrow down a search to suit your specific requirements. These
filters are hidden behind search tools in Google Images.

To find free images in Google, simply go to Search tools
> Usage rights and select the appropriate option.

Bing is the same deal as Google – lots of images, most of
them copyrighted. Like Google, though, Bing also has filters, except these are
not hidden.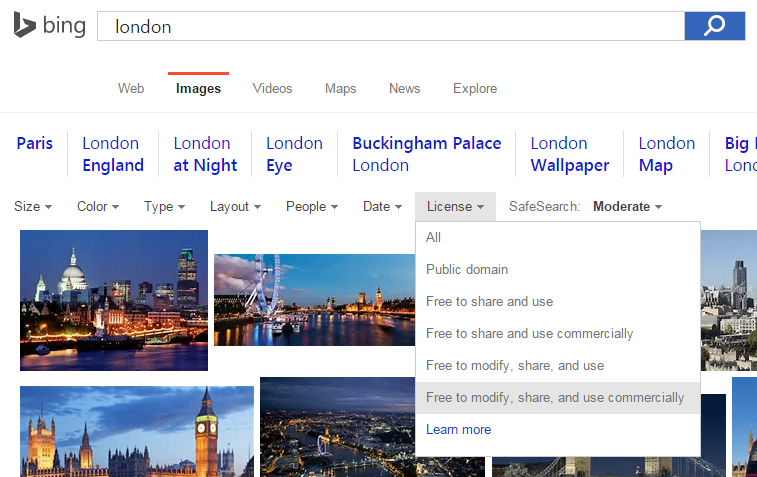 From the image results page, hover over License and select
from the six available options.
In terms of market share, Bing might be a long way behind
Google, but don't assume that makes it inferior. Its image search engine is
filled with free high-res images, some of which you won't find on Big G.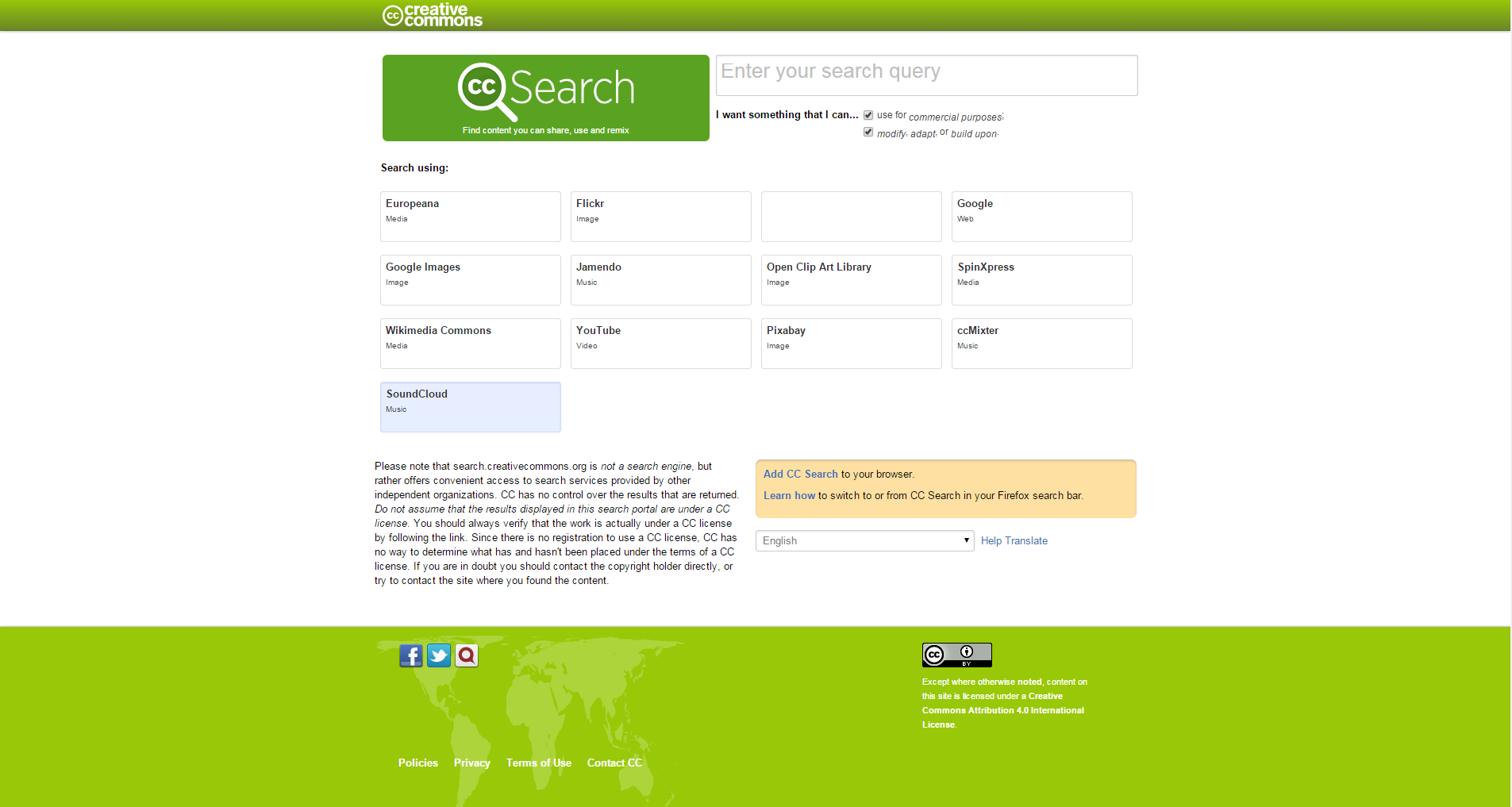 Creative Commons is kind of a one-stop shop for free images
that can be modified and/or used for commercial purposes. From here you can
search a number of resources including Flickr and Wikimedia Commons.
A little note on Flickr: when using an image from this site
it is common practice to credit to the owner. By all means use an image, but
avoid modification unless permission has been granted.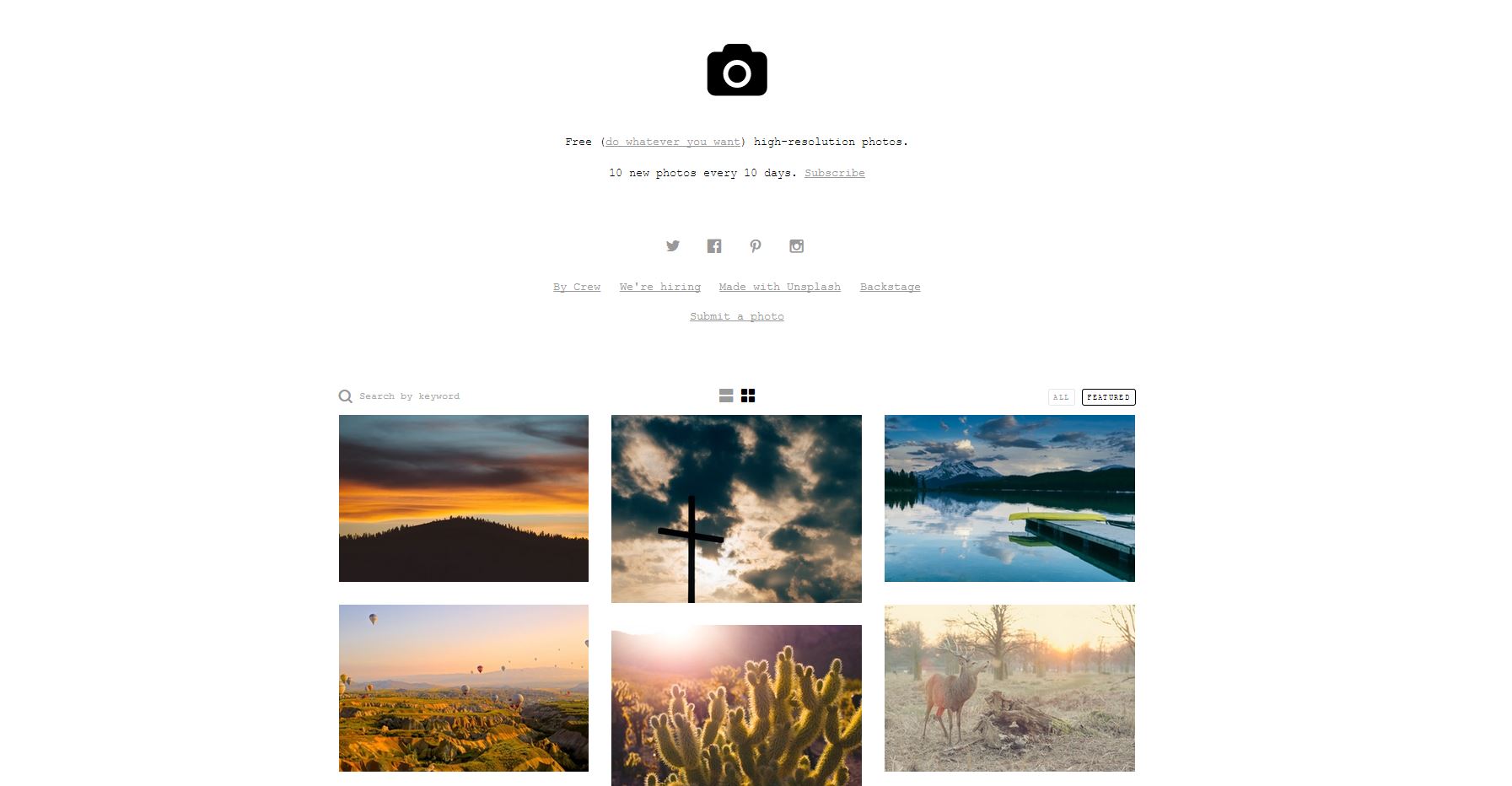 We featured Unsplash as a top resource in our recent blog
post on Web design resources, but it's certainly worth mentioning again. This
site publishes 10 new photos every 10 days that can be used, modified and
distributed however you wish – no registration required.
There is so much to like about the quality of the images on
offer here that you can easily waste hours just scrolling and admiring. To
speed up your search, filter images by entering keywords into the search bar.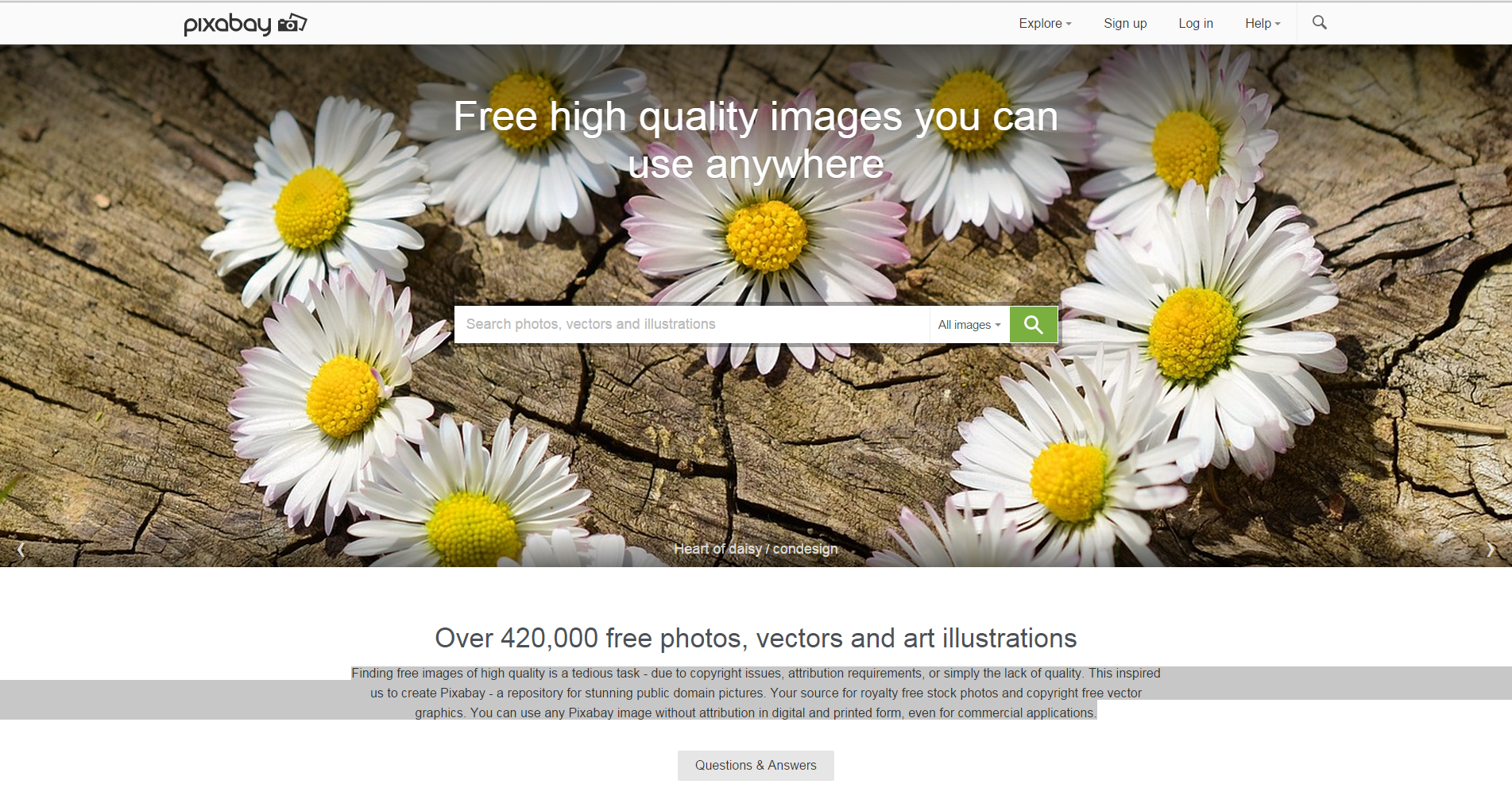 Pixabay is an image search engine where photos are free for
commercial use with no attribution required. From the horse's mouth:
"Finding free images
of high quality is a tedious task – due to copyright issues, attribution
requirements, or simply the lack of quality. This inspired us to create Pixabay
– a repository for stunning public domain pictures. Your source for royalty
free stock photos and copyright free vector graphics. You can use any Pixabay
image without attribution in digital and printed form, even for commercial
applications."
Searches can be filtered by image type (photos, vector
graphics, illustrations), orientation, category and colour.
If your content is news based, Getty Images is an excellent
resource. The stock photo agency is a go-to place for advertising professionals
and media outlets with around 80 million stills to choose from. To own an image
you find on Getty you're going to need to pay for it; however, you can borrow
anything for free by using the embed feature.
When you've found an image you'd like to use, simply hover
over it and click on the embed icon. This will then bring up a code that can be
pasted straight into your HTML.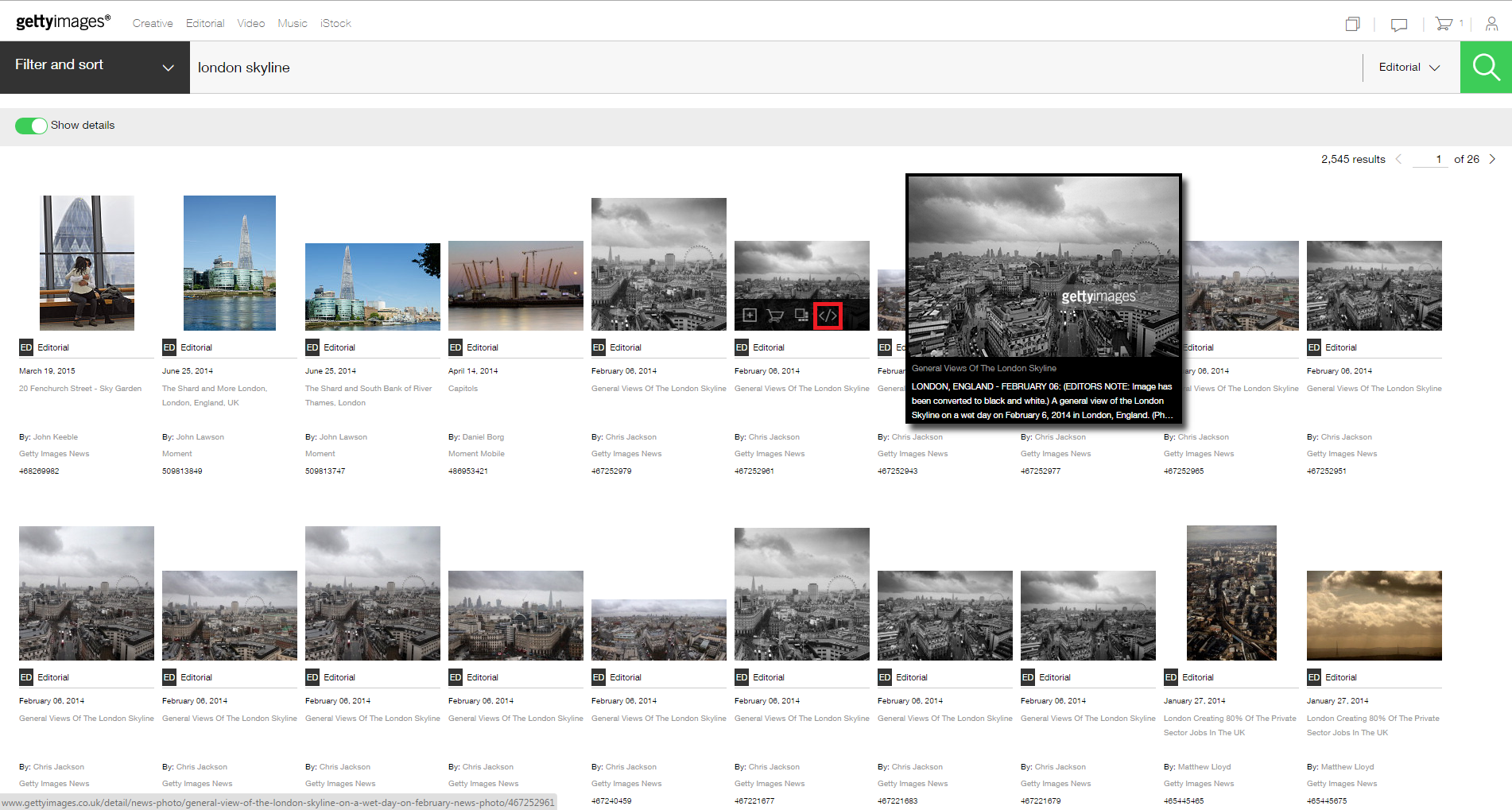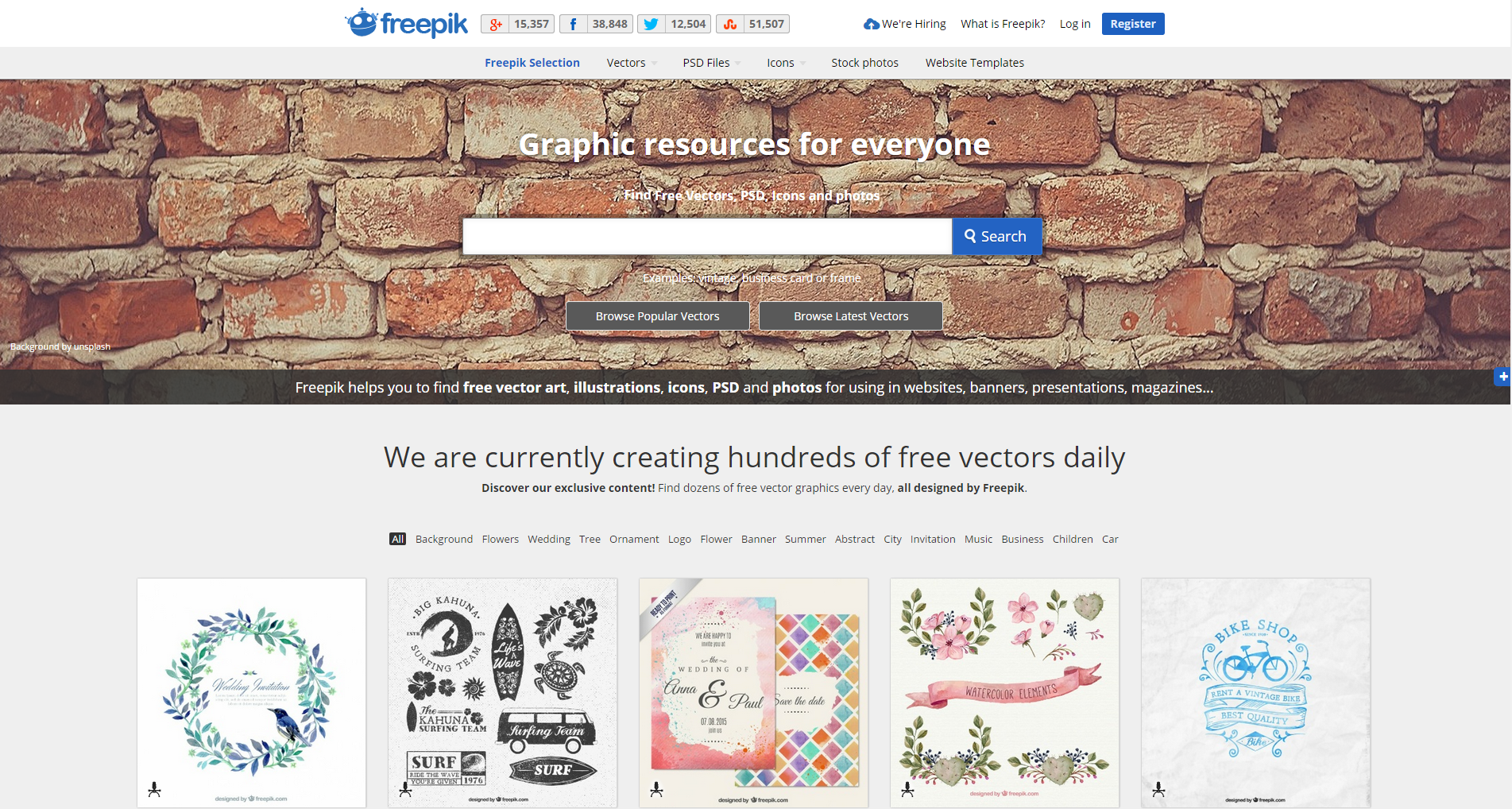 Freepik is a team of big-hearted designers and developers that
make it their life's work to provide the very best graphic resources for our
visual content marketing needs. On this site you'll find hundreds of free
vectors, PSDs, icons and photos with new designs added on a daily basis.
Search for you required image using keywords in the search
bar, or browse by popular and latest vectors.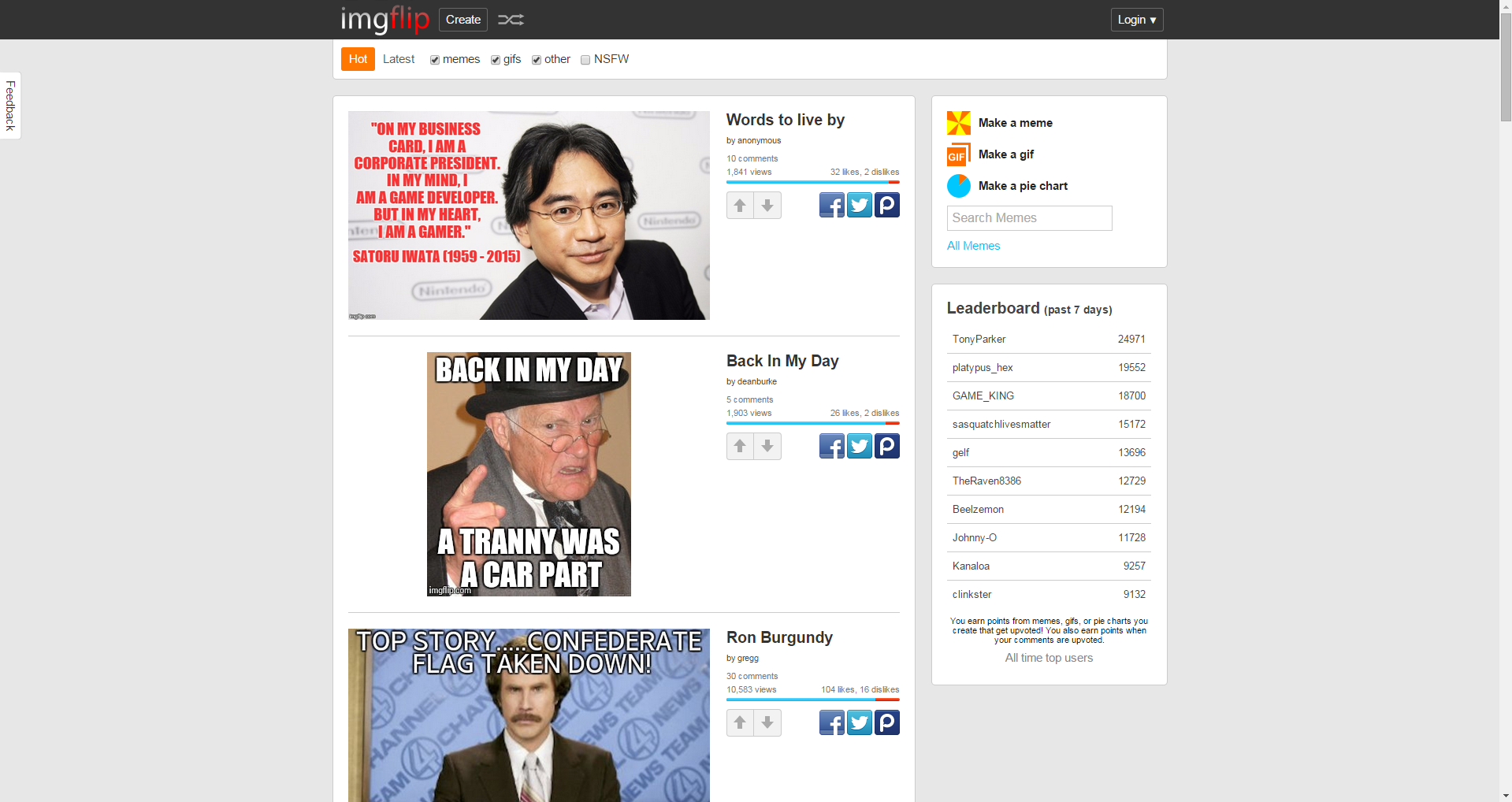 Everyone likes a good meme and Imgflip is the place to find,
design and share them for free. The site is filled with hundreds of memes that
can be used in their current guise or 're-memed' with humorous text of your
own. Imgflip also lets you upload your own images to create original memes.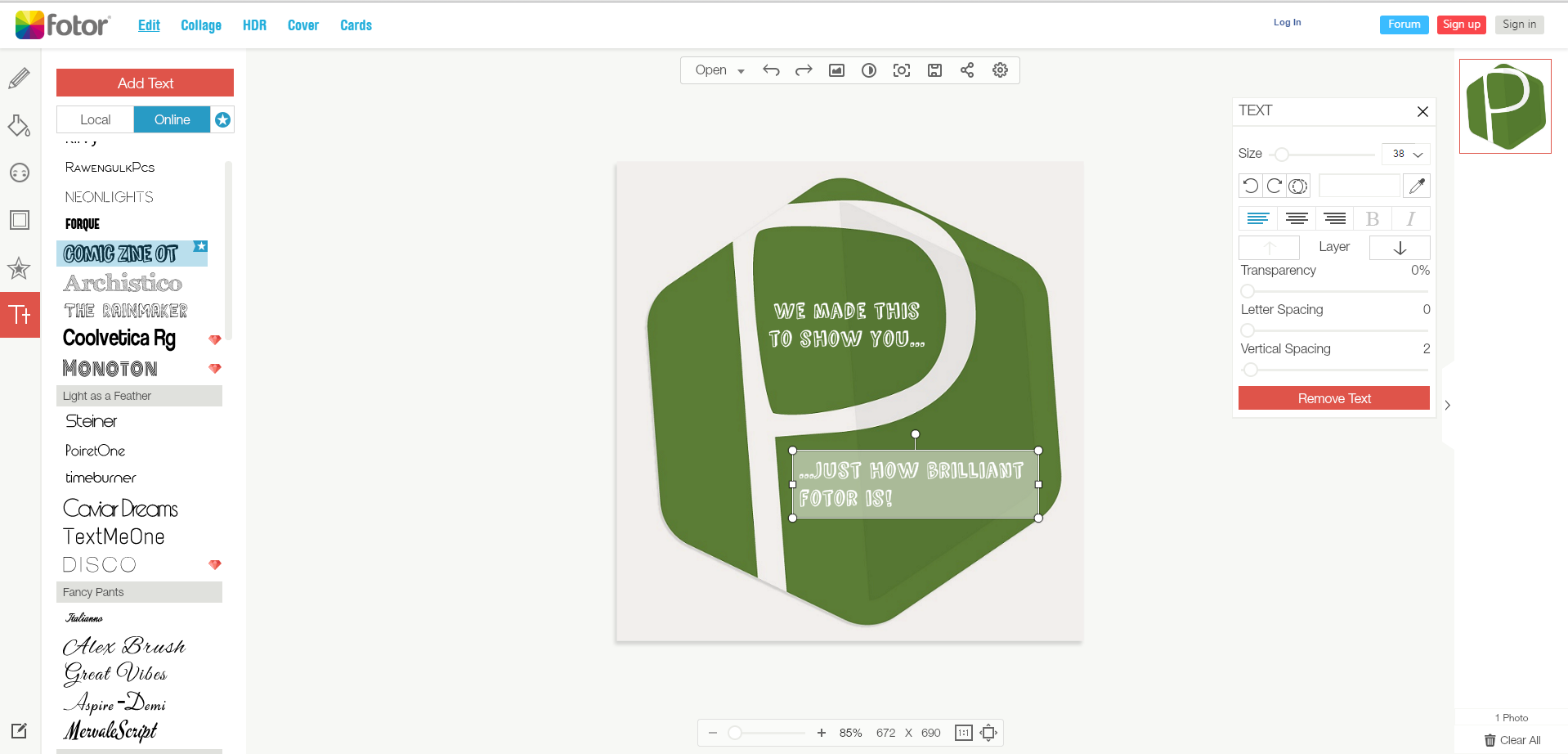 One of our favourite resources, fotor is a brilliant photo
editor that allows you to modify any image, for free. You won't be able to find
images here, but you'll be able to take any photo you'd found using one of the
other resources and edit it to create something original.
Fotor's editing tools are brilliantly easy to use and the
majority are free, allowing you to add filters, effects and text to completely
transform any image. Your new design can then be shared or saved to your
desktop.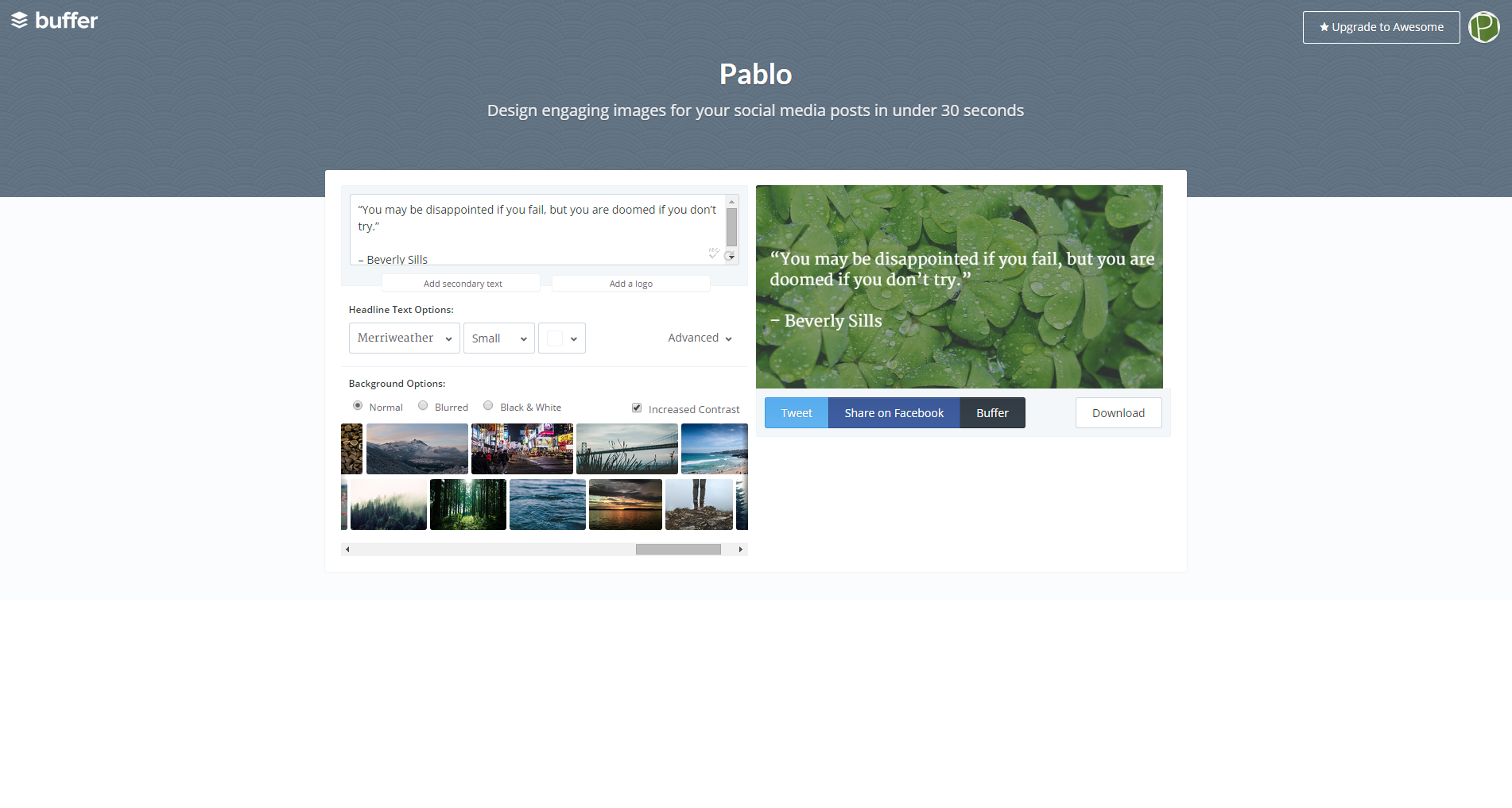 If you're looking for something fun and engaging to post on
social media, a good quote never goes amiss. They are visual, inspiring and
thought-provoking all at the same time – three qualities that promote sharing.
Pablo by Buffer lets you create a quote in minutes, which can then be
downloaded, shared on social media or added to your Buffer queue. There's a
great selection of background images, selected filters and a choice of fonts.
You can even upload your own photos and add your brand logo.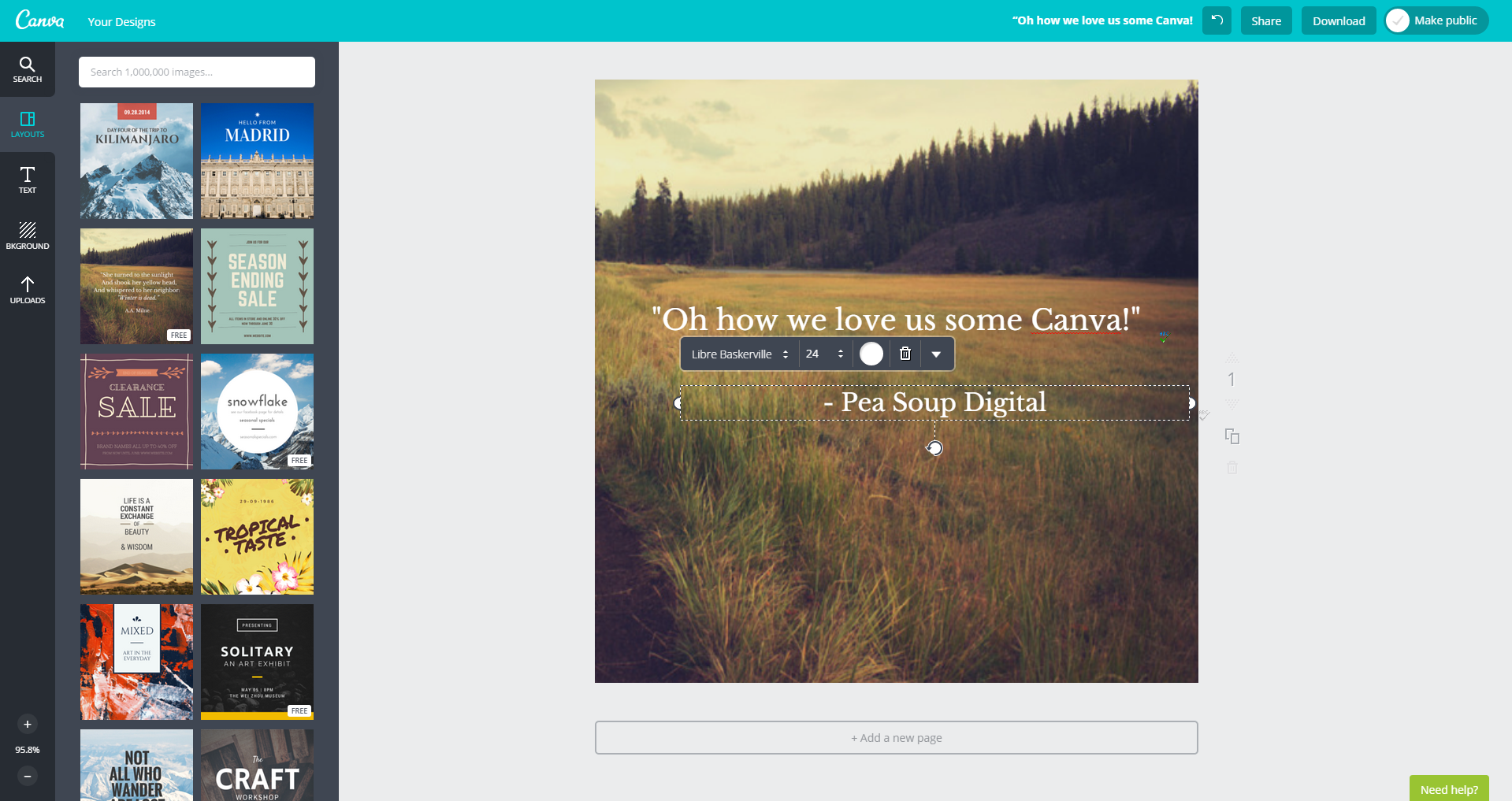 Our current flavour of the month and a tool lauded by many a
content marketing influencer; Canva is a tool that makes design simple for
everyone. Like fotor, this is not a place to find images, but to make them, in
this case from scratch. Whether it's social media covers, flyers, posters,
infographics, presentations or collages, Canva lets you create something
completely unique in minutes.
Graphics can be knocked up with ease in a drag-and-drop
fashion and new users can enjoy a cool tutorial to get you up and running.
Designs are saved automatically and can be shared or downloaded when complete.
Do you use any of these resources? Do you have favourite
tools or sites of your own that people should be using? Let us know in the
comments.