20 Mar

Google's Mobile-Friendly Algorithm: Get Ready or Get Left Behind

Mark 21 April, 2015 in your diary now. No, not because it's Commemoration
Day in Belarus or Tiradentes
Day over in Brazil, but because this is the date Google will implement its
dreaded mobile-friendly algorithm – an
event that will most likely affect the landscape of organic search forever.

Having been bellyaching about mobile-based rankings for some
time, Google announced in February that it will finally start rolling out
its official mobile-friendly algorithm this coming April. And, as Mountain View
has already confirmed the update will have a bigger
effect than their Panda and Penguin updates, the latest algorithmic deployment
promises to massively impact Google's mobile search engine results.

You've probably noticed that Google has already started
labelling mobile-friendly sites on the SERPs (search engine results pages), giving
its users the option to avoid the sites that aren't optimised. Now, however, Big
G are taking it to the next level and removing this choice by purging non-compliant
pages from its search results completely. Sounds scary, huh?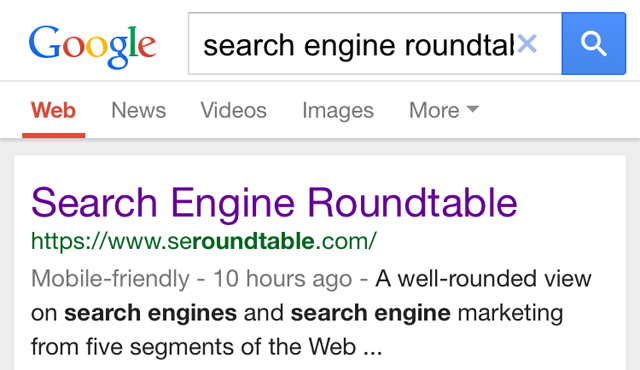 Despite the worrying implications, the announcement doesn't
come as much of a surprise for seasoned digital marketers and SEOs. Over the
last few years, the amount of people accessing the web through smartphones and
tablets has sky-rocketed and, with more than
half of the internet's traffic coming from mobile devices, it was only a
matter of time before Google updated its algorithmic behaviours to coincide
with the change.
Take our client Mobile Madhouse, for instance: a massive 65%
of all its 2015 visitors accessed the site via a mobile phone or tablet.
Luckily for Mobile Madhouse we've designed a super-sleek responsive site for
them; but if we hadn't, more than half
of its traffic could have vanished overnight come 21 April. A sobering
stat, I'm sure you'll agree.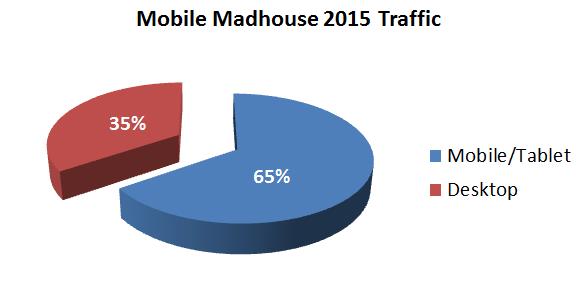 As Google is all about the user experience these days, why
wouldn't they penalise businesses for not catering for mobile visitors? Google
believes that by making a site mobile-friendly, it ensures a super-smooth
customer experience and helps searchers find what they're looking for, quicker.
We all know how frustrating it can be to land on a non-mobile-friendly site on
a smartphone or tablet – pinching like a maniac to try and click that link – so
Google's doing something about it, by removing these pages from its results. Which
is a good thing, right?
The worldwide mobile-friendly algorithm will roll out on a
page-by-page, real-time basis. This means the update will be unleashed around
the globe in one fell swoop and judge pages individually for their
mobile-friendliness, not just pigeon-hole sites as a whole. Although this will
allow businesses that are strapped for cash to optimise their more popular pages
first to lessen the impact of any penalisation, we strongly recommend
optimising your entire site for mobile as soon as possible.
So what do I need to
do?
I'm glad you asked. First thing's first; check if your site
is mobile friendly. To help you out, Google has introduced this nifty tool
you can use to check if certain pages are mobile-friendly. All you need to do
is enter a page's URL and Google's magic spiders will crawl the page and let
you know if it's tip-top or, from a mobile point of view, in tatters.
If a page isn't mobile-friendly, you'll likely need to fix
one or more of the following issues:
The text is too small to read
The mobile viewport is not set
The links are too close together
The content is too wide for the page
You can also use
Webmaster Tools' Mobile Usability Report
to create a comprehensive list of which of your sites pages don't fully comply with Google's guidelines. Chances are if one of your pages isn't mobile friendly, none of them will be.
Again, if any of your pages aren't optimised for mobile, we can't stress enough how important it is to rectify this. Yes it might be expensive, but sweeping the problem under the carpet could result in half of your organic traffic disappearing overnight, and that's a much more costly repercussion.
If there's only one thing you take away from this article, let this be it:
Mobile is the future

;

ignoring this is business suicide. Get mobile-friendly or get left behind. 
The above issues are not easy fixes, though. If you're not a web
designer or developer, you don't stand a chance of rectifying these problems
yourself. But don't worry, like a knight in shining armour Pea Soup Digital is here to make sure your site is optimised and ready to face Google's mobile-friendly algorithm.