14 Aug

Google 'Watch Time' and How to Make Your Videos Watchable

With all the hysteria regarding Google's decision to restructure as a company called Alphabet, and appoint a new CEO – Sundar Pichai – to oversee Google as we know it, another little nugget of important news has flown under the radar somewhat. That of a recently granted patent, called 'Watch Time'.

The on-the-ball Bill Slawski from SEO by the Sea was the
first to break this gem of a story, suggesting the patent appears to be aimed
at video and audio content, but noting that it may also refer to how long a
person stays on a page they arrive at through search. As far as videos and
audio are concerned, Watch Time is fairly self-explanatory: a ranking score will
be based on how long a person spends watching a video on your site. A score will
be boosted if a user watches for a long period of time and demoted
if the viewing time is shorter.

This is already a ranking factor on YouTube with viewing
sessions being promoted over clicks in search result pages, suggested videos, etc.

If you're not currently using video content, then you may be
tempted to abandon this post right about now. Of course, we don't want that to happen;
not just because we want you to read through to the end and be satisfied that you've
done so; but in case the patent does actually does apply to any kind of content!. So let us hit you with some stats as to why video is important…
96% of online shoppers say they find videos helpful in
making buying decisions – MarketingProfs
80% of internet users recall watching video ads on websites
visited in the last 30 days – Online Publisher's Association

92% of mobile video viewers share videos with others – Invodo

88% of internet users spends more time on a website with
video – Mist Media
70% of marketing professionals say that video converts
better than any other medium – MarketingProfs
Video is where it's at right now. YouTube video watch time
has jumped 60% year-on-year, with average viewing sessions now at 40 minutes; while
autoplay has sent Facebook video views through the roof, with around 4 billion
a day filling timelines on the social network.
So if you're not utilising videos, you should be, and if you
are, you should be focussed on getting people to watch them, in their entirety.
Making a watchable video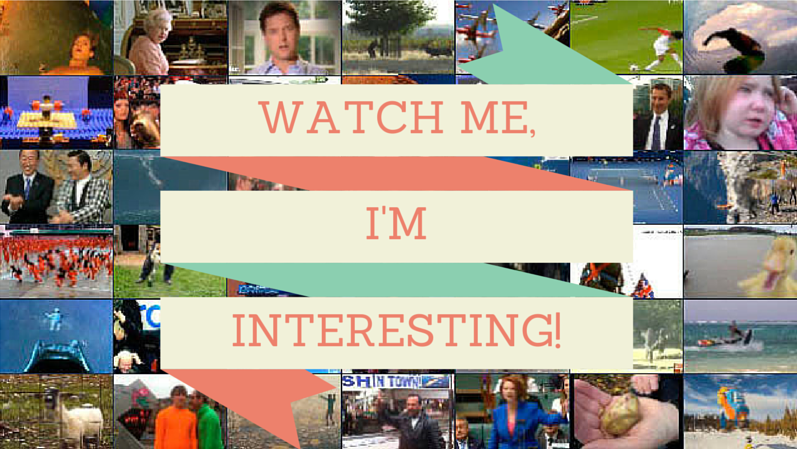 So how do you set about creating a watchable video…one that's also popular enough to get shares?
The easiest answer would be to start recording yourself
playing video games, learn how to apply makeup and teach people, buy a cat and shoot it (with a camera, not a gun), or get in the business of being stupid and have a friend film you hurting
yourself in various ways.
If any of these suggestions fit in with your business model,
then grab your camera and start recording. With the right promotion, you'll
rack up the views.
For the majority of us, though, our businesses are rather less
extravagant, thus making views a little more difficult to achieve, let alone
have people watch content from start to finish.
Generally, if a video is watchable, it will naturally be
shareable. If someone is willing to watch your video until the end, it will
probably be because the content was good enough to keep them interested. They
like it, so they share it with friends and followers that might also like it.
Conversely, they might totally hate it, and love every second of hating it. Hate is a strong enough emotion to invoke shares also,
and Google won't know the difference. But, of course, you want them to like it, or at least hate it in a good way, and this means adhering to the common traits of a watchable video.
These apply to everyone, regardless of business or target audience:
Short and simple
Yes, average video sessions are 40 minutes, but that doesn't
mean everything you post should be the same length as an episode of Game of
Thrones. Nobody, especially on Facebook, is going to sit and watch a video for
three quarters of an hour – they simply don't have the time. There are too many
other potentially interesting things to look at on a News Feed.
59% of people will watch a video to completion that is less
that one minute long; however, 45% of them disappear after that time, with 60%
of viewers gone by two minutes.
The longer the video, the greater of risk of losing the
viewer – make your message clear and put it across as concisely as possible.
It's been emotional
We mentioned emotion earlier and it's crucial to reeling
those viewers in. Happy, sad, angry and not angry, just disappointed, are all
emotions you should strive for in your videos. If a viewer can relate to you
emotionally, you're on the right track.
Watch me, share me
Every video has to give the user some thing to act upon, not necessarily in a "Buy
Now" kind of way, but by giving the viewer something to take away. This could
be something they've learned that can be applied to their own business, or
something to help others.
Make it Universal
Your business might exist in a niche market, but that doesn't
mean should alienate everybody that isn't up on your industry buzzwords.
Watchable videos have universal appeal in that they can be interpreted however
the viewer so desires, without overly offending anybody.
The Watch Time patent is a sign of the times and an
indication of how serious Google is taking videos outside of YouTube. People
are favouring videos over any other type of content and if something is popular
with the people, Google are naturally going to be all over it.
If you need any help in producing videos for your brand, we
have a dedicated video production team that might be able to help. Feel free to
get in touch here, on social media @peasoupdigital, or by commenting below.