19 May

Google Shopping: What it is and Why You Need it

Internet shopping is huge. By 2018, £1
in every £7 will be spent online and whenever there's something big on
the Web you can be sure that Google is never far away from the action.

People can't get enough of doing their shopping online and
Google knows this. It also knows that, when buying something, most people use a
search engine to find somewhere to buy it. Of course, this being the case, it
wants to make sure that everyone passing through Google search is able to find
what they want at the best possible price and so provides them with ads, known
as Product Listing Ads (PLAs). These ads are part of Google Shopping, which is,
quite simply, a shopping comparison website.

As a user, whenever you enter a search term related to a
particular product, Google will serve up PLAs at the top of a search engine results
page (SERP), which include an image of the product, price and merchant – as
highlighted here inside the red box: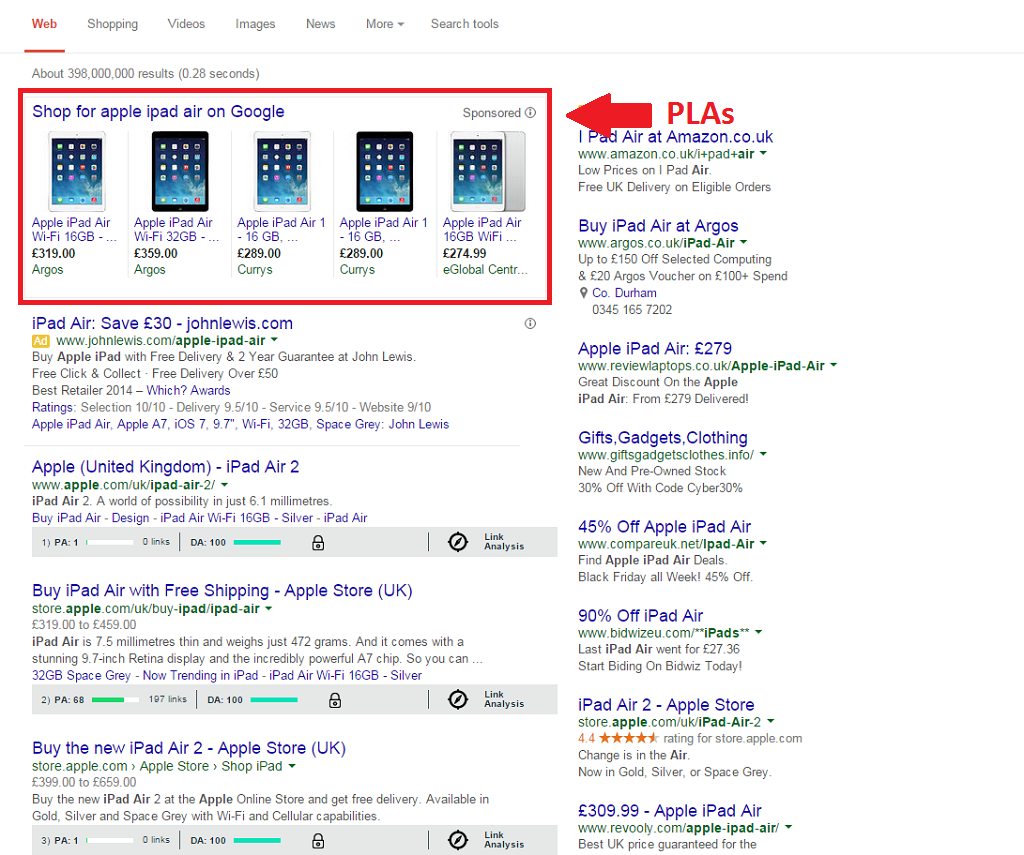 Sometimes they may appear to the right of search results
too, à la this Google Chromecast product search: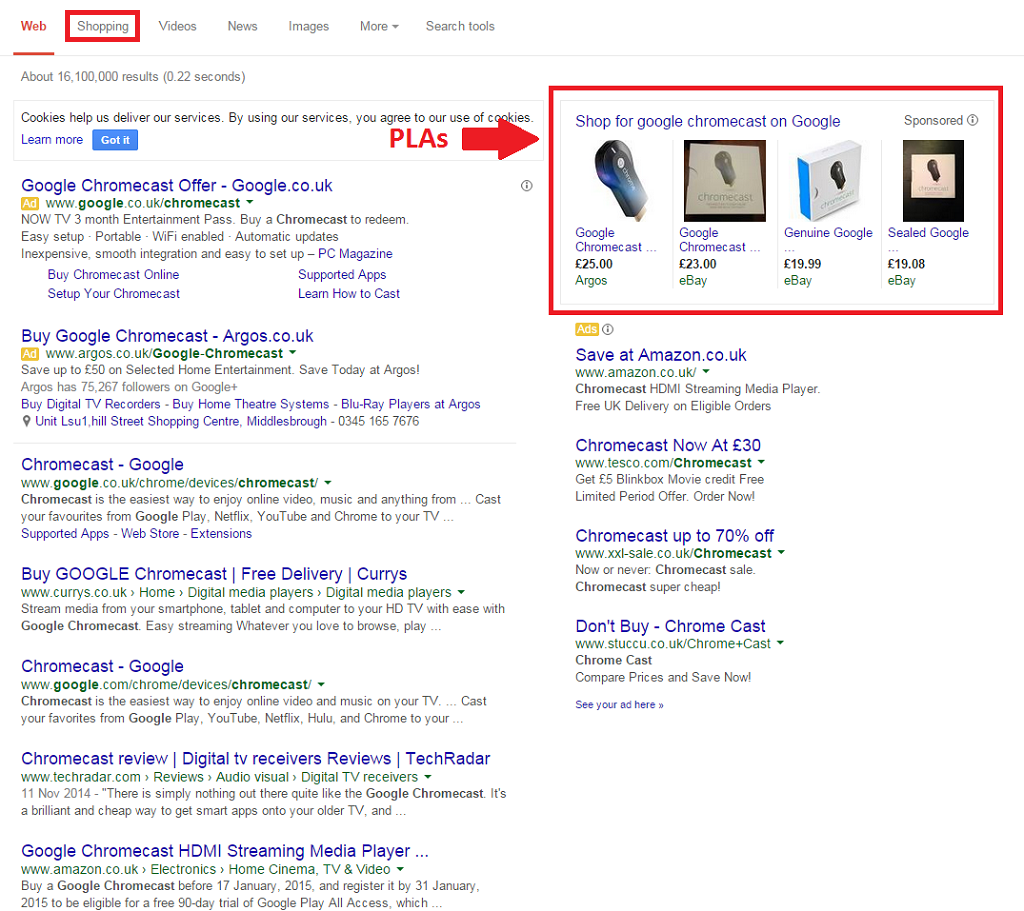 Also notice the "Shopping" tab – this takes you to a more
detailed product page where you can filter results based on condition (new or used)
price, category and seller: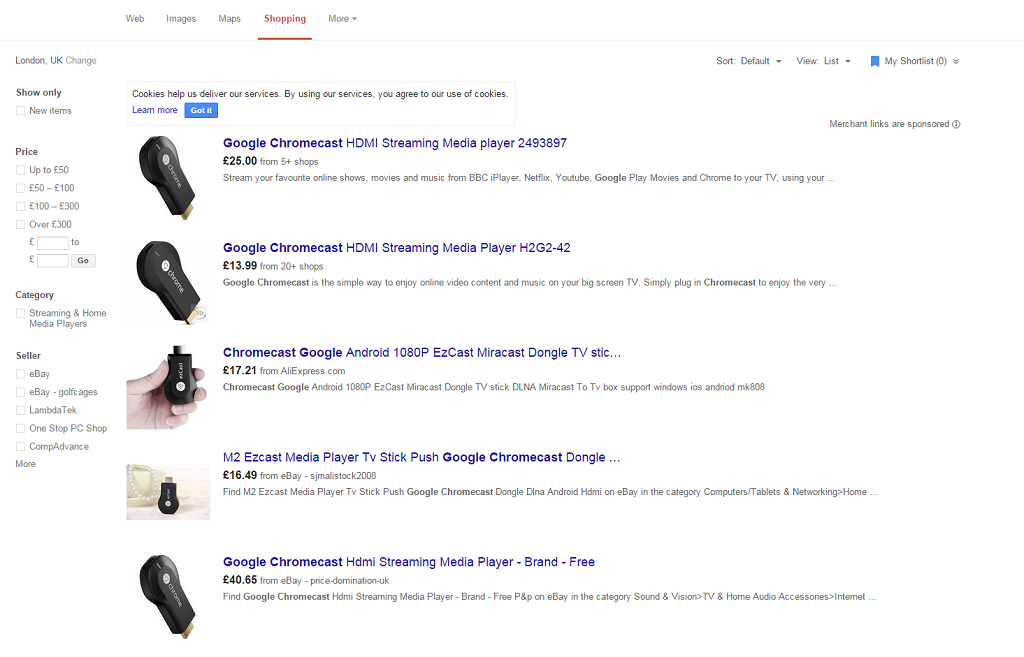 Product Listing Ads have been around as part of AdWords for
a while, but it's only recently that they became part of Google Shopping.
PLAs, like the ads you see in the screenshots, are designed
to provide users with a more engaging experience, while allowing merchants to
get their products in front of their target audience. Crucially, from the
merchant's point of view, Google can do this without requiring keywords or
fancy ad copy. Also, ads are charged by cost-per-action (CPA), meaning you only
pay when a user completes a transaction.
Here's a video from Google explaining PLAs:
New integration, same old benefits
The fact that PLAs are now part of the Google Shopping
experience doesn't really change anything as far as their original benefits
go. If you're in the online shopping game, getting your products in front of the
people that are looking for them is as good a way as any to drive traffic,
increase awareness and boost revenue.
Google, clearly proud of the fact that PLAs work, has even
put together a whole page of success stories,
where the number of happy merchants is only outnumbered by  the barrage percentage points.
New integration, new benefits
PLAs haven't remained stagnant, though. The move from standalone
product to Shopping campaigns has brought some fresh ways to enhance advertising.
With the new format comes a selection of glitzy new tools that allow you access
competitive benchmark data and get knee deep in to optimisation.
With these new tools you get to:
Filter and manage reports to glean data for improving campaigns

Use industry benchmarks to find out how your campaigns perform against average impressions, cost-per-click (CPC) and standard open rates in your niche

Improve product bidding by managing inventories directly from your AdWords accounts.  
Getting Started
This all sounds pretty appealing so far, right? If you've
got something worth selling online, then Google Shopping is pretty much a no-brainer. If you haven't got it, get it.
To get started you're going to need to get set up with a
Merchant Centre to host your products and link it to an AdWords account. From
there you can create a campaign and begin advertising. It's all pretty
straightforward…until you get to campaigns, which is where things start to get
a little complex – too complex to bore you with the intricacies here. Don't
worry, though, we're pretty well versed in this stuff and can help you out with anything you need.
If you're from an AdWords background, the fact PLAs are
created without keywords and copy can be a bit off-putting, but we can help you
with that too.
Advertising Management
Advertising is notoriously hard to master and Shopping
campaigns are no different to AdWords or any other type of pay-per-click (PPC)
platform in that they can easily be mismanaged.
To prevent this, and to help people get the most out of
PLAs, Google released a whitepaper called "Shape
Up Your Campaigns" featuring information on how to structure campaigns, which
feed attributes offer the best click through rate (CTR), adjusting bids around
peak seasons.
If you can't be bothered to read it, basically you should be
using highly-relevant, user-friendly titles (under 50 characters) and images, as well as keeping product information up-to-date.
While critical, SEO
and organic traffic isn't the be all and end all to online success. You've got
to be diverse and Google Shopping is fast becoming the best way to do this.