17 Mar

A 3 Minute Guide to SEO

A lot is written about SEO; what it is, how it works and why
you need it. The problem is, you haven't really got time to read it.

No worries, here's everything you need to know in three
minutes, or less.
What is Search Engine Optimisation (SEO)

?

"…the process of
affecting the visibility of a website or a web page in a search engine's
"natural" or un-paid ("organic") search results." – Wikipedia

This basically means making changes to your website so that
humans have more chance of finding it in search engines like Google, Bing and
Yahoo on desktop and mobile devices.

SEO is all about keywords and links; relevance and
reputation; quality and trust. It's about providing optimum user experience.
Why do I need SEO

?

Because no-one will be able to find your website without it.
93%
of online experiences start at a search engine – you can't afford to ignore
that.

Also, 131
billion searches are conducted on the Web every month – you can't afford to
ignore that either.
How does it work

?

It's complicated, secretive and, to be honest, quite boring.
Basically search engines use algorithms – a unique set of rules that are used
to determine the significance of a webpage. [Virtual] Spiders crawl the web to
index and rank pages using these algorithms to check for:
         

Relevancy
– the relationship between a webpage and keywords

         

Popularity
– how many people like your website

         

Off-page
factors

– click-through measurements and linking
"Algorithms are
computer programs that look for clues to give you back exactly what you want."
– Google.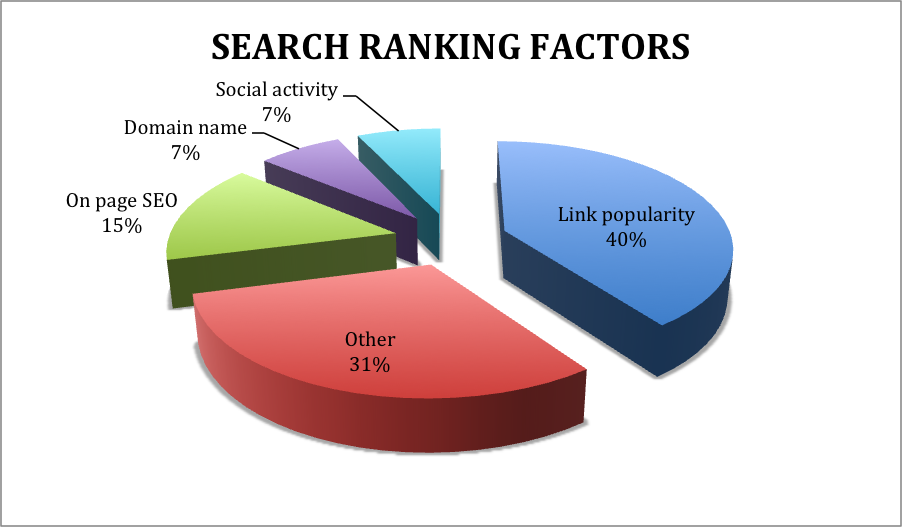 Image credit: Content Chemistry, An
Illustrated Handbook for Content Marketing by Andy Crestodnia.
Algorithms determine
rankings, by:
       

Link popularity

       

On-page SEO

        

Domain name (keywords in URL)

        

Social activity

        

Other factors (page load time, click-through rate,
search volume, fresh content)
What can I gain from SEO

?

Success!

SEO helps:
       

Make your webpages more visible; which helps

       

Drive more traffic to your website; which helps to

       

Increase conversions – i.e. get more people to
buy from you
But you really need
to be on the first page, because:
       

75% of users never scroll past it; and

       

60% of all "organic" clicks to the top three
organic results
How do I do SEO

?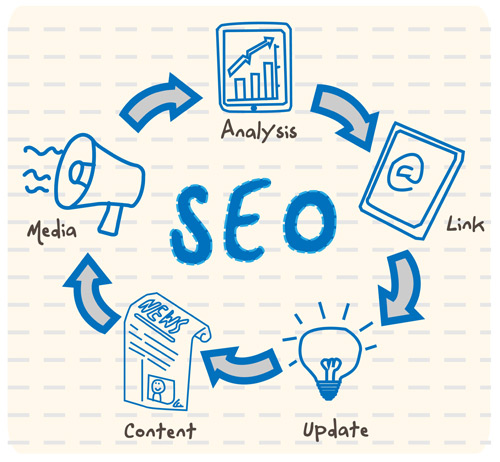 SEO has to be done on-site and off-site.
An on-site SEO
checklist:
P

ut keywords in Titles, URLs, Meta descriptions, headers and all other content. Keywords are words and phrases that someone types into a search engine to find a website. An example: if you sell second-hand cars in London "used cars in London" would be a good keyword phrase. Don't overdo it on keywords, though; content has to be natural.

Create links to internal and reputable external pages

Make websites and webpages user-friendly, easy to navigate and fast loading

Ensure all content is relevant, engaging and informative

Use relevant, keyword-optimised images and graphics to boost engagement

Optimise content based on location

Avoid grammar and spelling mistakes. These are not acceptable

Include social media buttons/links on all pages

Create a sitemap and submit it to search engines
      An off-site SEO
checklist:
        

Find and

measure
inbound links

(links that point to your website)

        

Scan for

high-quality
competitor links

        

Build
quality links

over time, organically

        

Get a

presence
on social media – Facebook, Twitter, Google+, LinkedIn, YouTube, Pinterest,
etc.

        

Promote
content via social media

; interact with followers
Quality content helps
build valuable links and social media shares. Some ideas on what to create:
       

Blog posts – companies that blog have 97% more inbound links

     

Promotional articles

    Guides

    Videos
    Infographics
    Opinion articles
    Reviews
    Case studies
    Whitepapers
   Why is quality important
?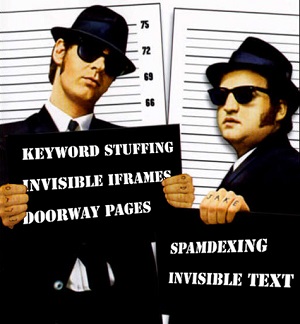 There are two types of SEO: "white hat" and "black hat".
White hat SEO involves ethical practices that focus on the human audience
rather than a search engine and follows search engine guidelines.
Black hat SEO is the opposite – using practices that focus
on search engines rather than humans, ignoring guidelines.
White hat gets you ranked, black hat (although it looks cool
in the image) gets you penalised.
In summary
SEO is a must. Fill your website with a constant stream of
quality, optimised content that people want, share it with relevant others, be
patient and the rewards will come.