16 Jun

A 10 Step Guide to SEO Failure

We're going to play a game – you versus Google. If you get
to the top of the search rankings and stay there, you win – and your bottom
line will most likely tell you you've won. If you get to the top of the search
rankings and get caught, you lose – and your bottom line will definitely let
you know you've lost.

Now obviously you want to win, that goes without saying –
everyone wants to win. And the way to do that is to do the exact opposite of
what I tell you here. Because what I'm about to run through is a step-by-step
guide to failure – a stick-on way to land your website with a manual or
automatic Google Penalty and a drop in rankings. I know it's a bit
unconventional, but hey, you know what they say: losing builds character; get
penalised and you'll come back stronger.

So let's go, how to fail at SEO in 10 simple steps:
Step 1: Start stuffing keywords
Keywords are a must for ranking highly within your niche,
but over-optimising them is search suicide. So, with that in mind, you're going
to need to ramp up the density. The more keyword-laden your content, the
greater the likelihood that Google will see it as being poorly written and
punish you for it. So shoehorn keywords and phrases into content like it's 2005 –
don't worry about it sounding natural.
Step 2: Over-optimise anchor text
Take your anchor link text and make sure Google knows exactly what you're trying to rank for.
A lot of focus is placed upon branded and naked anchor text – that's too safe.
What you need is exact match anchor text or, at the very least, a lot of
partial match anchors. More than 20% of over-optimised links cause a problem,
so anything over that and you'll be well on your way down the search rankings.
Step 3: Get links from low-quality sources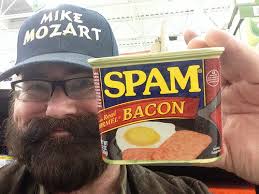 Low-quality links are frowned upon, but usually unavoidable.
Every website will have some poor links, but some won't cut the mustard – you need lots. I'm talking about
making sure over 80% of all links are spammy. Get out there and hustle; find
some low quality sources and get them to link to you.
Step 4: Buy links
I didn't really want to ask you to spend money on getting a
Google Penalty, but I promise you'll enjoy some short-term SEO gains for your
cash – besides you don't have to spend much, £5 should do the trick.
Get yourself involved in the shady world of paid linking so
that Google thinks that you've been:
paying for automatic back linking

paying people to link to your
site
an active part of "agreed"
linking networks
If you're hard-up and would rather not dip into the coffers,
consider asking people to pay you for links – the results are the same and you
won't have to give any of the money back when you're caught.
Step 5: Find links from outside your niche
You should already have plenty to go at concerning links,
but one more tactic won't go amiss. Google is big on sticking to your niche
when it comes to links, so get the red flags waving by seeking links from
sources that have absolutely nothing to do with your industry. For example, if
you flog mobile phones for a living, try getting links from sites about
knitting.
Step 6: Make no effort to publish good content
Content is the lifeblood of SEO and Google expects you to
provide plenty of it; not only that, it expects content to be relevant,
engaging and informative. That takes a lot of time and a lot of effort –
neither of which you can afford, or would want to do anyway. So instead, you're
going stop updating your blog with any sort of regularity and, when you do publish,
make sure content has absolutely no value to the reader.
Step 7: Duplicate content
Duplicate content is a common problem and often occurs
through no knowing fault of your own via URL parameters, product descriptions
and printer-friendly pages. In order to make your website less useful to users,
you're going to need to leave any duplicate content untouched and start
partaking in a bit of thievery. If you see some content online that you like,
take it and claim it as your own. Google will come down on you like a ton of
bricks.
Step 8: Hide some content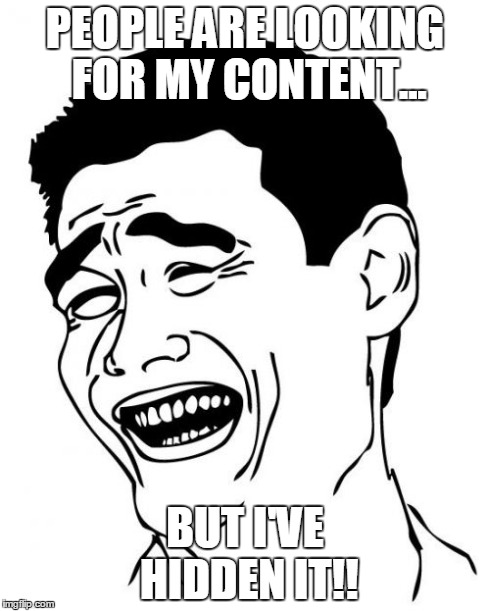 A staple of black hat SEO, hidden content involves disguising
content to manipulate search engines. All you need to do is make the text
colour the same as the background. Users won't know it exists and Google, when
they catch on, will hate you for it.
Step 9: Get more ads
How many ads are on your site? Actually, it doesn't matter I
can tell you there's not enough. Lots of ads result in a poor user experience –
something that Google values highly. Your ad-to-content ratio needs to weigh
heavily in favour of the former. Put flashy, spammy ads right in front of
visitors so they're unavoidable – shoving the main content of the page down to
make way for them is a great tactic for getting penalised.
Step 10: Start guest blogging
The fact you're not really spending any time producing
original content on your site might free you up to immerse yourself in some
low-quality guest blogging. Doing this for SEO purposes used to offer some real
benefits, but spammers ruined it for everyone. Of course, this is good for you
because it makes it easier to get that penalty. Find some irrelevant,
low-authority websites and offer them your services as a rubbish blogger. You'll
rarely be turned away.
And there you have it, 10 steps for sure-fire SEO failure
and a substantial Google penalty to boot. Beaver away.
Please note:
These steps will actually get you a
Google Penalty, a real one that will send your traffic through the
floor. Use them by all means, but just be aware that your SEO will bomb.
Ideally, therefore, you should avoid them at all costs!
If you do happen to find yourself with a Google Penalty (of course, we don't want this to happen…but if you do), we offer services to help you remove it. Just saying.