02 Mar

10 Free SEO Tools to Use When You're Skint

So, you want to get ahead with your SEO, but the coffers are
running low? Listen, I've been there, I feel your pain – running a business isn't
cheap. Don't despair, though, you've come to the right place, I've got your
back.

SEO is a beautiful thing, get it right and you'll never be
skint again. If it was at all possible I'd advise you to invest everything
you've got in SEO, but it isn't, and you can't. Maybe one day, but for now
money's too tight to mention. Fortunately, such is the splendour of Search
Engine Optimisation, it's perfectly possible to make gains without ever having
to scramble around for change down the back of the sofa – and here are 10 tools
that can help you do it.

From the moment your website goes live, your business is at
the mercy of Google. But, as unforgiving as it can be if you don't play ball
by its rules, Google is a search engine of the people. It wants you to do
well, and provides all the tools needed to rank prominently. Analytics is one
such tool. No other SEO weapon in your arsenal – free or paid – tracks traffic
and delivers data like this. From content to conversions, everything needed to
improve your bottom line lives right here.

I've banded these tools together for two reasons: 1) they
are essentially the same thing; and 2) 11 free tools didn't sound as good.
Webmaster Tools, Messrs Google and Bing, give you an insight into what the big
two search engines think of your site, providing a wealth of useful information
including analysis, alerts, error reports and indexing issues. To get you
started, the guys over at Search
Engine Journal have put together a top 'How-to' guide, which is also free!

Moz is to SEO what Bruce Forsyth is to light entertainment –
an institution. Open Site Explorer is the first of two Moz products on the
list, and it's brilliant. When funds allow you should definitely consider
investing in the Pro option, but for now the free version is more than enough,
delivering link analysis that can be filtered by Top Pages, Linking Domains and
Anchor Text. What's more, it's all packaged in a no-nonsense interface that
lets you get right down to business.

Are you targeting enough keywords? How does 750 more off the
back of one phrase sound? That's exactly what Keyword.io will do for you 99.99%
of the time, without errors, for free. Type in your keyword, select your
version of Google and away you go.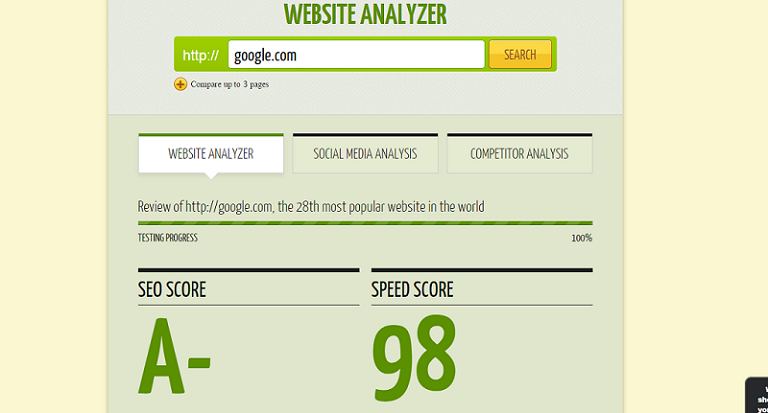 SEO, site speed, keywords, tags, social, links, and
competitors – all factors in successfully navigating your way to the top of
Google mountain. QuickSprout's Website Analyzer is a tool that helps you win at
SEO, by providing you with a comprehensive insight into each facet of SEO. The
results might not always be what you want to see, but they're always truthful,
and sometimes the truth hurts, my friend. The best thing about this tool (apart
from the fact it's free, of course) is that you only need to input your URL and
nothing more.

Why is that website that looks just like yours, offering the
same service as you, ranking higher? Where on earth is it getting its traffic
from and how is it doing it? SimilarWeb has the answers.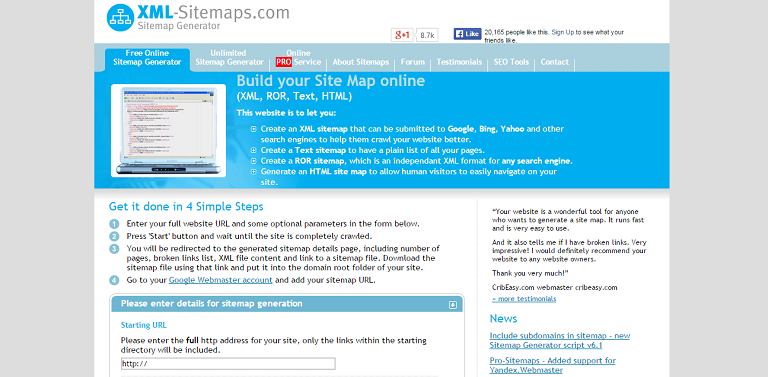 A Sitemap is, in the simplest terms, a list of the pages on
your website. By having one, you'll be helping search engines know all about
your webpages, including URLs that may have otherwise been missed. There are
plenty of Sitemap generators around, but XML Sitemaps is the best, and that's
why it's listed here. The free version offers up to 500 indexed pages too, and
you can't really argue with that.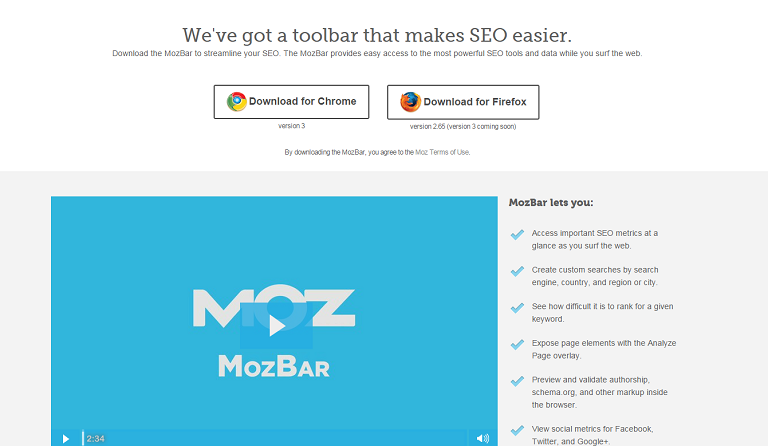 MozBar is a toolbar…bear with me, I hate toolbars too,
especially those half-a-dozen that suddenly appear in your browser after
installing software. I didn't set out to recommend a toolbar, but this is Moz
and Moz cannot be ignored. Install MozBar for Chrome or Firebox browser and benefit
from some essential SEO insights from within your search engine and any website
that you visit.

Duplicate content and plagiarising are bad things – you know
it, I know it. Unfortunately, there are a lot of people out there that don't
see things our way. Copyscape lets you enter a URL for any blog or website and
tells you if that content exists anywhere else online. If someone is ripping
you off, you can out them Rogue Trader-style. At the same time, you can also
make sure your own stuff is original.

"Grade your marketing. Make it better. Outpace your peers."
– I think Hubspot says it all. Enter your website URL and email address, click
on "Grade Me" and sit back while the Marketing Grader rips your strategy apart.
These tools should keep you ticking along nicely until you're
back in the black, and when you are, give us a call and we'll show you how good
SEO can be when you've got cash to throw at it!